Broadcast News
28/06/2013
DPA Selected For Berklee Music College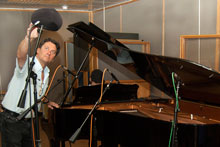 When professors at Berklee College of Music in Boston decided to outfit the school's microphone lockers, they selected a variety of DPA Microphones from the company's d:dicate Recording Microphone line, including the 4006 and 4007 Omnidirectional Mics and 4011 Cardioid Mics.
Music Production and Engineering (MP&E) students spend a substantial amount of time learning the ins and outs of the studio.
The existing 13 studios serve as classrooms by day and become entirely student driven for recording, engineering and production projects after regular class hours.
"At Berklee, we believe in using only definitive tools," says Rob Jaczko, chairman of MP&E.
"As such, we have long been fans of DPA Microphones. The quality, fidelity, and musicality of a microphone are key components of a recording. That's why it was important for us to represent the DPA brand to students as we teach them the craft of music production and engineering. DPA features prominently in our choice of microphones. We use many of the company's d:dicate microphones in our studios and recently put together a surround recording package with the 5100 multi-channel microphone for location and orchestral work."
Berklee also recently opened a campus with five studios in Valencia, Spain. This campus will offer master's degree programs and study abroad opportunities for undergraduates. Berklee plans to add even more of the d:dicate microphones to its mic lockers on both continents.
"Choosing DPA Microphones was an ideal solution for the school, the students, and for me personally," explains Jaczko.
"Not only am I the Chair of the department, but I am principally a recording engineer. We wanted to make sure the students have the opportunity to hear the quality of the DPA mics, which set the benchmark for superior audio. When we make equipment choices, no matter what type, it's based on selecting only industry-standard, signature tools that will provide a sense of familiarity for the students as they join the professional engineering world after graduation. DPA is part of that standard."
www.dpamicrophones.com
(IT/JP)
Top Related Stories
Click here for the latest broadcast news stories.