Broadcast News
28/05/2013
Editec Captures Close Of The Season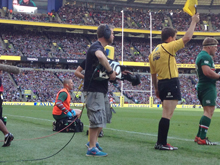 Editec captured the recent rugby match between Leicester Tigers and Northampton Saints, using two I-Movix cameras.
This followed Editec's coverage of the Aviva Rugby semi-final at Saracens (ESPN).
The company also supplied two Extreme Slomo systems for the ITV match coverage of the recent Wigan V Man City FA Cup Final; one also providing material for a promo shoot for ESPN.
As well as this, ITV Sport chose Editec's I-Movix cameras to enhance their coverage of the FA Cup Final at Wembley on 11th May.
Two I-Movix Sprintcam Vvs camera channels were installed in an OB unit supplied by UK's leading OB facilities company Arena TV Mobiles. The cameras were fitted with large box lenses and provided not only in an in-match Slomo facility, but also images for the closing montage.
"It is always good when a customer comes back for more, especially when we know there is tough competition out there" said Steve Cotterill, Editec MD.
"To be involved in this most prestigious event for the fourth year running is a great honour. ITV Sport's confidence in our ability to deliver is much appreciated".
As previously, a further camera was hired by ESPN for a promo shoot - supposedly dedicated to the ESPN Promo department, but the replay feed did find its way into the ESPN add-on OB truck supplied by SIS Live - the images noted as being used throughout their programme.
Although the camera CCU was installed in the OB truck, Slomo operation and logging was carried out in the back of MD Steve's Pathfinder, at the request of ESPN producer Sam Murphy, who prefers the peace and quiet. Freelance senior cameraman Michael Howe, Richard Patmore on engineering and Editec's own Slomo supremo Paul Tamlyn completed the Editec crew. The ultra motion images were recorded onto an AJA Ki-pro in Prores HQ resolution and transferred onto a client supplied drive so the producer could leave with his material.
www.editecuk.com
(IT)
Top Related Stories
Click here for the latest broadcast news stories.