Broadcast News
04/04/2013
London Calling...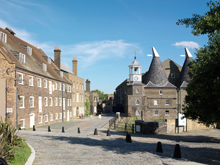 As the UK economic climate continues to follow a downturn, two London-based studios, 3 Mills and Wimbledon, are still on top of their game.
3 Mills and Wimbledon are both an essential part of the broadcasting landscape in the City. While 3 Mills retains its reputation as the largest studio in London, Wimbledon are the successful new kids on the block, and show little sign of slowing down.
Two major British film projects were released in March which showcase the continuing success at 3 Mills: Trance and Welcome to the Punch. Both were shot at 3 Mills Studios and on location around the capital.
Welcome to the Punch, the second feature from rising British writer/director Eran Creevy starring James McAvoy (Atonement) and Mark Strong (Zero Dark Thirty), has been earning high praise for its original portrayal of London, as well as its design and cinematography.
Trance, the first film from Oscar winning director Danny Boyle since his triumphant Olympic opening ceremony, also stars McAvoy as a fine art auctioneer, mixed up with a criminal gang, who join forces with a hypnotherapist to recover a lost painting.
"These two films offer a great example of the kind of productions that the British industry is so good at delivering and the kind of films that we, at 3 Mills Studios, love to work with," said Derek Watts, Studio Executive at 3 Mills Studios.
"On the one hand Danny Boyle who has made four films with us, as well as producing the 2012 Olympic Opening Ceremony from here. Then on the other hand you have Eran Creevy, one of the most interesting and exciting voices emerging in British cinema at the moment."
The news follows a successful 2012 for 3 Mills. The Studios hosted the London 2012 Olympic & Paralympic opening and closing ceremonies teams, continuing 3 Mills' reputation as an exciting and discreet destination for creative artists and productions.
"3 Mills has a fantastic reputation, which is only further enhanced by these two excellent new films which utilised its brilliant facilities," Adrian Wootton, Chief Executive of Film London and the British Film Commission.
"3 Mills Studios is part of the city's roster of world-class studios, which are crucial for us to successfully promote London as a film-making capital to the international and domestic industry.
Welcome to the Punch is also an extremely special release for Film London, as it's the second film from the team behind Shifty, produced through our micro-budget production scheme Microwave, and sees them successfully and ambitiously striving forward in their careers, just at the scheme intends."
3 Mills is keen to capitalise on the new tax credits for animation, television and games production.
The company is in a position to do this due to its location in the heart of creative East London, as well as its recent history with animated films (Frankenweenie, Fantastic Mr Fox and Corpse Bride).
Derek Watts adds: "We are currently working with a number of television productions and independent feature films, and producers are continuing to enquire about stage availability throughout 2013. From 3 Mills perspective, there is definitely seems to be a confident feeling in the industry going forward."
Wimbledon Film & Television Studios describe themselves as "London's freshest film & television complex"; a label which is supported by the recent news that it is to host the filming of the third series of ITV gameshow Tipping Point, hosted by Ben Shephard, later this year.
The show will be the first large scale TV production to be filmed at the Studios, confirming its status as a fully operational TV facility which has already obtained the trust of big budget productions.
Piers Read, Managing Director, Wimbledon Film & Television Studios says: "We are delighted to welcome Tipping Point to Wimbledon Film & Television Studios as it's a fantastic addition to the portfolio of programmes we play host to as we continue to grow. We are expanding at such a rate that we are selling some of our iconic sets to make room for the productions we have on the slate in the near future, and we are in the process of building a 5,000 sq ft third studio to accommodate this demand."
Wimbledon Film & Television Studios is London's newest production hub. The studio was, until 2010, home to The Bill but since then, under new management, the studios have undergone a major refurbishment and have welcomed a host of productions to SW19 including hit TV series such as Episodes, Spy, Secret State,  Adventures in Time & Space (BBC) and This is Jinsy as well as major movies such as The Iron Lady.
Read the article in the online edition of Regional Film & Video
here
.
Top Related Stories
Click here for the latest broadcast news stories.