Broadcast News
03/04/2013
The Changing Face Of TV News...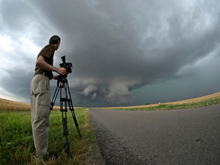 The way breaking news is covered on TV is changing fast. New technologies are enabling more events and stories to be covered live or near live, and with almost every man or woman on the street owning a video camera built into their phone, we are becoming accustomed to seeing video footage of breaking news stories within minutes - writes freelance cameraman, Alister Chapman
In the early days of television news a film cameraman would have been sent out with a cine camera to cover the aftermath of the event. The cameraman's film would have been picked up by a runner or courier to be taken to a processing lab to be developed before it could be edited and then scanned ready for broadcast. Just developing the footage could take an hour, while physically cutting together the film was fiddly and time consuming. In the 1970s, early portable video cameras and recorders started to replace film. This cut out the need to develop the film before use and sped up the editing process. By the early 80s, video cameras had almost completely replaced film and the first truly portable one-piece cameras were starting to appear. I started in television in the 80s and I well remember lugging around a large 6kg shoulder mounted camera with a portable 12Kg U-Matic ¾" recorder before the arrival of the first "lightweight" camcorders. My first Betacam camcorder weighed in at almost 10Kg, with a battery that would only last about 30 minutes on a good day. The tapes only lasted 30 minutes as well. Over the following years the cameras got a bit lighter and more power efficient. But these were still based on tape and in order to get that tape on air, normally you would need to get a courier to pick up the tape to take it back to a studio for editing into the news programme. As well as camera developments, the 80s saw the rapid growth of the use of satellites for television news. This was incredibly expensive in the early days as there weren't many satellites available and you needed one of the few uplink trucks available at the time. Satellite technology has become cheaper over the years, but it still requires specialist, complex, bulky and often difficult to set up equipment, and there is still a finite amount of transponder space available.
Moving forwards to the late 90s, camcorders not only got smaller but also moved from analogue recording to digital. At the same time computers became powerful enough to edit video. Now a TV news crew could shoot and edit their own material on location. Around the same time, the Internet started to get fast enough to allow it to be used for video uploads. In 2004 I was using a DV camcorder to shoot violent storms, then editing that footage on a laptop into a short news clip before uploading the footage to news and weather channels via the Internet. The uploads took a long time, sometimes hours. But when you were in the middle of no-where this was often faster than waiting for a courier or satellite truck to arrive.
The use of the internet to distribute clips and footage is now common place. As mobile wireless networks like 3G and 4G get faster and coverage improves, it's getting easier and easier to send video around the world from almost anywhere. Compact laptops or dedicated encoding devices can compress the feed from a video camera in real time so that it can be squeezed into a file small enough for a live feed even over very limited data connections.
The BBC has just placed an order for over 500 JVC HM-650 camcorders. Part of the reason for this purchase is, I am sure, the ability to plug in an off-the-shelf WiFi internet dongle. The camera has built in software that allows you to upload footage via ftp. In the future, the camera will be able to use a 4G wireless dongle to stream video live via the web. In addition, companies like Terradeck are now selling very compact streaming devices that will take an SDI or HDMI feed from a camera and stream it live. These are great tools for professional news gathering, but perhaps the biggest change is that almost all of us now carry a video camera that can stream video live built into out phones. As a result we now expect to see video of breaking news stories within minutes not hours. How things have changed during my time in TV.
Read the article in the online edition of Regional Film & Video
here
.
Top Related Stories
Click here for the latest broadcast news stories.