Broadcast News
16/01/2013
Film London's Education Training Returns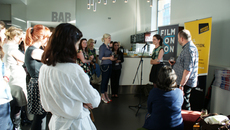 Cultivate: Inspiring Future Audiences will return in 2013 with support from the Creative Skillset Film Skills Fund as part of A Bigger Future 2, Film London has announced.
An innovative training programme for film educators within the exhibition sector, Cultivate is the only course of its kind, offering film professionals the necessary skills to develop film education programmes in cinemas and festivals, with the aim of growing audiences for cultural cinema.
Cultivate is aimed at those working in the film exhibition sector who want to extend a venue or a festival's reach, encourage community links and provide opportunities for deeper audience engagement with their film programmes. The comprehensive three day course will give aspiring film educators the skills and confidence to develop education programmes for cinemas, film festivals and schemes such as rural cinema initiatives.
Adrian Wootton, CEO of Film London and the British Film Commission said: "After the inaugural and successful Cultivate training programme, it is wonderful to be able to offer this opportunity again in 2013, thanks to support from Creative Skillset.
"With Cultivate, I believe we have identified and addressed the lack of professional training and development opportunities for film educators within exhibition.
"Film education should be an integral part of an exhibitor's audience development strategy as it plays a vital role in growing audiences and enriching young people's cultural experience with film.
"I'm delighted to report young people in the UK are already benefiting from Cultivate; innovative ventures are currently being spearheaded by last year's participants, armed with the necessary practical knowledge and industry connections."
Dan Simmons, Head of Film at Creative Skillset commented: "We are delighted to continue supporting Cultivate with Film London. This is an innovative programme for film exhibition professionals that helps them strategise on how to reach out to schools and young people and develop enthusiastic, informed and intelligent film audiences for the future.
"This intervention complements the BFI film education strategy in educating young people in film, and we look forward to mapping out the business impact on Cultivate participants and their organisations in the future."
Topics on the course will include navigating the primary and secondary curriculum, inspiring young people, programming suitable films and developing study guides, issues around licensing and child protection and engaging a range of audiences as well as stakeholders and potential partners.
www.filmlondon.org.uk
Top Related Stories
Click here for the latest broadcast news stories.