Broadcast News
05/12/2012
Giggle 'Tell Their Story'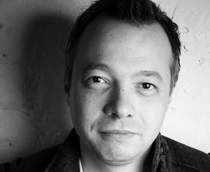 Steve Garret, Giggle MD, trained as a theatre director in London before moving across to digital as an editor.
He quickly discovered a love for animation whilst working for motion capture company Audiomotion in Banbury, then following his passion to Pinewood Studios.
After this Steve worked as a concept creator for a graphics licensing company, travelling the world selling ideas and meeting Stan Lee. This sowed a seed that grew to become Giggle in 2006. Steve now describes his job as being a story teller and it's the best job in the world.
RFV: Tell me about some exciting projects you are working on at the moment?
SG: Giggle are working on a lot of exciting projects currently, the biggest is a brand new YOUTUBE channel for the BBC NHU. Being shot at our sister company Bristol Green Screen then edited, composited and animated all in one day at Giggle, it's quite intensive but very exciting. Each episode is unique and we get to play around with some of the most amazing archive footage ever shot. It's a real privilege, it's also a great showcase for the team as it covers every aspect of what we do at Giggle; delivering strong narrative using animation and motion graphics.
RFV: Giggle is obsessed with telling stories – what's that all about?
SG: We have adopted the strapline 'Let's tell your story' because we really believe that from great stories comes great content. This is true from a simple VFX to a complex animation for a financial client.
Everything we do starts with a story. Why are we doing this, who is it for and what do we want them to feel when they see it. It's essential to consider the emotional impact of your work as this is what creates retention and recall – and that's what communication is all about. There is no point in telling someone something if they can't recall it when they need the information. The quality of the work we produce speaks for itself, we are very confident about that, but the detail and focus that goes on behind the scenes to make our work as good as it is, is hard to explain to a client. But this is what makes us stand out though, we understand stories, we look for stories in everything we do and we make sure the story ends up on the screen.
RFV: Describe some new technology Giggle are embracing.
SG:The industry moves so fast it's almost impossible to keep up. This is very apparent in the Green Screen Studio. We have used in the last year 9 different formats on 17 different cameras. This is insane and very difficult to assure a consistent quality of product. So we have taken it upon ourselves to test as many cameras as we can to see which ones work best in Bristol Green Screen – we have created custom setups of the ones we really like, which can be loaded onto your chosen camera when you arrive to ensure you get the very best out of your shoot. It also ensures we don't have a nightmare in post. Look out for the blog on the Bristol Green Screen website this month to see the results for our first 6 cameras.
RFV: Your projects cover B2B, B2C and increasingly B2E. Which area makes up the majority of your business and how do you plan to expand the others?
SG: We operate a hub and spoke model with Giggle at the heart of everything we do within the Giggle Group. Broadcast and VFX work comes through Giggle Media, our broadcast division. We are also beginning to develop our own program ideas inside Giggle Media and are taking tentative steps on a path to becoming a fully-fledged production company. Giggle will continue to focus on B2B and B2C work – it's a very important part of what we do and offers us the opportunity to experiment, learn and be very creative – all of which adds value to the business. B2B and B2C was 60% of our business last year and we expect that to be maintained in 2012 -2013. Bristol Green Screen is quickly establishing itself as the best Green Screen Studio in the centre of Bristol, principally because it's so easy to shoot there, turn up, switch the lights on (the solid infinity cove is prelit) and shoot. We are offering a basic hire of the space or we can manage the whole shoot including compositing and grade if required. It really helps when you have all of the right talent under one roof. We intend to keep investing in the studio to make it even better whilst looking to expand our capabilities over the next 24months.
RFV: Can you describe any problems you have faced and overcome while providing shot corrections and VFX for TV Shows and movies?
SG: We have had some real challenges in the last 4 years. Typically these tend to come in at the last minute and the shot was never meant to be a VFX shot so we aren't onsite, something has gone wrong on a shoot and they need to get it fixed. We created a swarm of bees for an episode of Casualty when the plot called for a man to be attacked by a swarm coming from a beehive he knocked over. Obviously they couldn't use real bees but it appears they thought it would be ok to just do it with sound effects. It clearly wasn't so we had less than 48hrs to create a swarm for the sequence and get it back to London before TX. Another sequence saw a really great car crash into a lake in the snow and ice. The sequence was shot in October and the snow was all artificial; unfortunately the location had some rather large trees in it and the very experienced team of snow people couldn't spray trees that were over 4m tall. So when the footage came back there was basically a white tide mark where the snow stopped and the green trees began. We had to re-grade the footage and insert digital snow onto over 3minutes of footage. No small task when it's all high action, shot from inside of cars. Great sense of achievement though when it's done.
RFV: You have worked on simple title cards to ten-minute CGI extravaganzas are there any you are particularly proud of and why?
SG: The burning down of the Casualty set in Bristol – marking the end of a 25year stay in Bristol and launching the new Drama centre in Cardiff was very special for a number of reasons. It was the largest VFX sequence we had managed and involved a variety of techniques, models, real fire, CGI, 3D tracking, Blue screen, actors and stuntmen – you name it was in there. It was also the first episode shot on the brand new Arri Alexa, and the first episode shot entirely in HD. In addition halfway through filming, postproduction switched from Bristol to Cardiff. So there were a lot of technical and emotional challenges to deliver the 93 VFX shots. I have to say I think the sequence is great and stands up to quite a bit of scrutiny.
There is another project which we completed in the summer but I can't tell you anything about it except we created a crowd of 120,000 people in our Green Screen studio and turned Colston Hall (a classical concert venue in Bristol) into a massive outdoor festival venue using all the digital prowess we could muster. The whole thing was shot in 4K on Red and took a team of 90 highly skilled people to pull it together. Very exciting and it looks amazing – you'll have to give me a call if you want to see it though.
It really showed how good the team are at Giggle and it's even more exciting to think about what we are going to be doing over the next 12 months.
Read the rest of the article in the free online edition of RFV issue 195:
viewer.zmags.com/publication/8d62a9fc#/8d62a9fc/1
Top Related Stories
Click here for the latest broadcast news stories.