Broadcast News
04/12/2012
The Master Named Sight & Sound Top Film Of The Year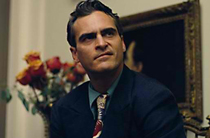 The BFI's Sight & Sound magazine's annual survey of the year, based on the top films of over 90 of the world's most eminent film critics, has revealed The Master , directed by Paul Thomas Anderson, as Best Film of 2012 followed by Miguel Gomes' Tabu with Amour by Michael Haneke in third place.
Nick James, editor, Sight & Sound said: "2012 marked the moment that the 35mm film print largely disappeared from our cinemas. Which makes The Master a truly apposite film of the year, since part of its uniqueness was the possibility – available in a few cities – of seeing it projected on a 70mm print rather than the new industry standard DCP. That gorgeous period film, brought so vividly to life by Paul Thomas Anderson, might end up being remembered as analogue cinema's last gasp."
The highest placed British entry on the list is Peter Strickland's Berberian Sound Studio, a UK-Germany co-production. French co-producers feature in five of the Top Films of 2012. Four films were made principally in the English language. Three films tied for 9th place, making the list a Top Eleven.
The complete list follows:
1. The Master dir. Paul Thomas Anderson, USA
2. Tabu dir. Miguel Gomes Portugal, Germany/France
3. Amour dir. Michael Haneke, France/Germany/Austria
4. Holy Motors dir. Leos Carax, France/Germany
5. Beasts of the Southern Wild dir. Benh Zeitlin, USA
6 . Berberian Sound Studio dir. Peter Strickland, UK/Germany
7. Moonrise Kingdom dir. Wes Anderson, USA
8. Beyond the Hills dir. Christian Mungiu, Romania/France/Belgium
9. Cosmopolis dir. David Cronenberg, Canada/France/Portugal/Italy
10.Once Upon a Time in Anatolia dir. Nuri Bilge Ceylan, Turkey/Bosnia & Herzegovina (also in last year's poll)
11.This is Not A Film dirs. Jafar Pahani & Mojtaba Mirtahmaseb, Iran) (also in last year's poll)
Sight & Sound made headlines around the world in August, with its once a decade poll, Hitchcock's Vertigo toppled Orson Welles' Citizen Kane as the critics' choice for Best Film. The magazine also released its entire archive of back issues to subscribers as part of a re-launch of the magazine.
Last year's annual winner was Terrence Malick's The Tree of Life, followed by Aghar Farhadi's A Separation (Iran), the Dardennes brothers' The Kid with a Bike (Belgium/France/Italy), Lars von Trier's Melancholia (Sweden/France/Germany/Italy) and Michel Hazanavicius' The Artist. All these titles went on to further awards' success.
The top 11 films of 2012
Top Related Stories
Click here for the latest broadcast news stories.