Broadcast News
28/11/2012
Tony Blair Congratulates Faith Shorts Film Winners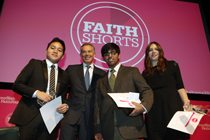 Tony Blair Faith Foundation has held a red carpet event at 195 Piccadilly, the home of the British Academy of Film and Television Arts (BAFTA) in London to honour the three winners of their global film competition, Faith Shorts.
The competition aims to counter prejudices and extremist views by building understanding about different religions and cultures through short films produced by young people. The winning filmmakers from Israel, the Philippines and India received their award from Tony Blair in front of an audience that included members of the judging panel, the film industry and religious figures.
Tony Blair, Founder and Patron of the Tony Blair Faith Foundation said: "Through these excellent Faith Shorts films, we can help build understanding about different faiths and cultures and help combat ignorance and fear, so creating a strong basis for peaceful coexistence.
"It is vital that we nurture a generation of young people who embrace and respect difference."
Film makers aged between 14-27 years old were asked to produce three minute films which answer the brief "Let me show you how my faith inspires me". The competition aims to give young people the opportunity to show what their faith means to them in their own words and take this to a global stage.
Entries flooded in from five continents around the world including: India, Israel, Palestine, Philippines, Singapore, United Arab Emirates, Israel, Norway, Nepal, New Zealand, the UK and USA and just fifteen films were shortlisted.
Julie Etchingham, Presenter of ITV News at Ten and ITV's Tonight programme hosted the event.
Julie Etchingham said: "These films truly give young people a voice in a world where they can often feel drowned out – and an opportunity to use their personality and creativity to express their faith and what it means to them. They challenge stereotypes, provoke thought – and most importantly encourage tolerance and compassion.
"If even only one film had the power to turn one person's ignorance into understanding it would be worth it. But these films have the potential to reach many more, and to foster a network of respect among young people from all backgrounds."
25 year old Liat Har-Gil from Rosh Ha'ayen, Israel won the 18-27 category of the Faith Shorts competition and was the overall winner for the first claymation entry to date. Death Bed the Musical features a dying man and his nurse debating the existence of god and the meaning of life.
Liat Har-Gil said: "I myself am not a religious person but I believe that promoting an understanding between different religions is very important and should be celebrated. I am grateful that the Foundation understood the message of my movie: the dangers of religious intolerance and selected me for this award. Building bridges between different religious communities is important. We must show the different sides of faith through a new medium, like film. My favourite Faith Shorts films were produced by the youngest entrants. I think the younger you are, the more you appreciate faith for what it is intended to be."
Watch Liat's 3 minute film here:
www.youtube.com/watch?v=F75tWMH-Oj0
Top Related Stories
Click here for the latest broadcast news stories.