Broadcast News
24/10/2011
BBC Studios And Post Production Transfers Historic Archive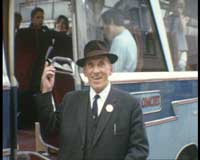 BBC Studios and Post Production's Digital Media Services team has helped London's Screen Archives make unseen footage of London life over the past 100 years available to view online. Funded by Screen Heritage UK and Film London, the project includes film dating back to 1911 which had remained in storage in film archive libraries kept by local London authorities and other organisations.
BBC Studios and Post Production's Digital Media Services team transferred over 26 hours of film, predominantly 8 mm and Super 8, with a small amount of 9.5mm and 16mm, taken from 11 London boroughs and other organisation's archives. The films included footage of the Croydon Fire Brigade in 1911, King George V's Jubilee celebrations in 1935 in Bromley, Southwark senior citizens on day trips to Canvey Island in the 1960's and the building of the Harrow Civic Centre in the early 1970's.
The films were prepared and cleaned by hand and then transferred from their original formats onto digital tape by Archive Specialist Tim Emblem-English, assisted by Harvey Williams and Glyn Palmer, before being speed corrected for file delivery and DVD delivery. The original photography and image quality varied greatly throughout the material, but thanks to careful grading and manipulation of the specially adapted Cintel Mark III telecine machine, all the footage can now be viewed as the film-makers intended.
Several titles had separate quarter-inch tape soundtracks which had to be synced up to the relevant action without the original projector-and-tape-recorder synchronising equipment. Others had combined magnetic tracks in various states of repair which needed attention to ensure the best possible reproduction.
The footage is part of a new online resource documenting London's rich social history on film.
Rebekah Polding, Screen Heritage Manager at Film London who oversaw the project, said: "BBC Studios and Post Production have done a fantastic job of transferring the historic footage and helping to make it accessible. Until now if you wanted to find this material it was very difficult - there was no way of knowing what films had been stored and where, and even if you did, there would be no easy way to watch them. Now we've got one central online catalogue that brings everything together, and the public will be able to view these fascinating films at archives all around London."
To view the archive visit:
www.londonsscreenarchives.org.uk
(BMcN/GK)
Top Related Stories
Click here for the latest broadcast news stories.