Broadcast News
09/07/2012
Famestore and McLaren Group Embark on 'McLaren Animation'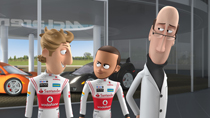 Framestore, the Oscar-winning visual effects and animation studio, is partnering with McLaren Group, the Woking-based family of niche high-tech companies that includes Formula 1 motor racing, to launch a brand new media company called McLaren Animation.
The joint venture will focus on creating high-end CGI-led content as part a new content-driven marketing strategy for McLaren. The partnership benefits from Framestore's access to leading UK talent, spanning strategists, script-writers, creatives, directors, producers and visual effects artists.
McLaren Animation's first production, 'Tooned', is a brand new media property that will generate new levels of audience engagement and sponsor-partner return on investment (ROI). 'Tooned' will make its broadcast debut to coincide with the 2012 Santander British Grand Prix on July 8 2012 and will feature digital incarnations of McLaren's star F1 drivers, Jenson Button and Lewis Hamilton. In total Framestore is scripting, directing and creating high-end CGI for 12 three-minute episodes.
Each episode of 'Tooned' uses Button and Hamilton's celebrated camaraderie and urge to race as fertile territory on which to grow comical adventures that test the patience of 'Professor M' (a reinvention of Bond's 'Q', as voiced by TV comedian, Alexander Armstrong).
The partnership is also considering additional ways of maximising the content's reach and engagement through multiplatform executions such as racing games and apps.
Sir William Sargent, Founder and Chief Executive Officer of Framestore, said: "We share a vision and passion for excellence and a common bond in seeking new ways to appeal to new and wider audiences.
"Our partnership with McLaren provides a perfect platform in a sport we love and with a brand we admire to find innovative ways for McLaren to reach a wider audience.
"I have long admired Ron Dennis and McLaren's achievements as a world class company – and am pleased to be invited to partner in this new and innovative form of content which opens new channels for McLaren and their drivers to communicate and connect with their audience worldwide.
"The films you see today are a start – and their simplicity and quality hide an enormous commitment in time and technology from a world class team at Framestore – one that has been excited by the McLaren challenge in the same way as they have on a Harry Potter or Superman film."
Ron Dennis, Executive Chairman - McLaren Group, commented: "McLaren has always aimed to be pioneering in everything it does. McLaren Animation's remit and objectives are therefore consistent with, and complementary to, the ethos of continuous innovation on which the McLaren Group has been built. We were pleased to find a world class partner in Framestore to bring our vision to life."
Executive Producer on the collaboration, Framestore's Simon Whalley added: "Combining our comedy directors with our exceptionally talented team of CG artists has really delivered some magnificent results, and we hope people love this show as much as we do!"
The content is being developed in a way that can involve McLaren's sponsor-partners by providing an additional platform on which to promote their branding and McLaren partnership. As McLaren's John Allert, Group Brand Director at McLaren Marketing, explained: "McLaren Animation's new series, 'Tooned', offers a unique platform for McLaren's sponsor-partners to achieve exposure to wider audiences, as well as to integrate brand messaging in a format of a high-octane sport not known for an ability to laugh at itself."
By approaching Framestore directly and circumventing the traditional creative agency route, McLaren's marketing team improved ROI by centralising the roles of creative agency, production company and VFX house. This meant the content could be created on an extremely efficient budget and schedule under just one roof.
McLaren gave Framestore an open brief to create content based on Button and Hamilton. The only stipulations were that the end result must comical, must allow for space for additional branding from McLaren's sponsor-partners, must be adaptable for worldwide territories and must have potential to run on a long-term basis.
Framestore's own directors Chris Waitt and Henry Trotter (A Complete History of My Sexual Failures, Fur TV and J-Factory) wrote the stories and directed the series, while Joel Morris and Jason Hazeley (Ten O'Clock Live, That Mitchell and Webb Look, The Armstrong and Miller Show) contributed to the stories and scripts.
Once the basic characters had been mapped out, dialogue was laid down through voice recording sessions, with the directors encouraging Armstrong and the drivers to improvise and play off against each other.
framestore.com
Top Related Stories
Click here for the latest broadcast news stories.