Broadcast News
30/05/2012
MTF Services Scoops Guild Of Television Cameramen Award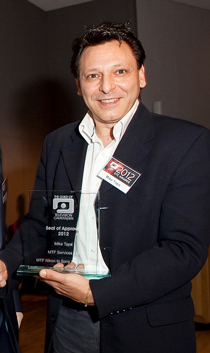 MTF Services Ltd has been awarded a seal of approval by The Guild of Television Cameramen.
The Award is specifically for MTF's Nikon to Sony F3 lens adaptor. This allows the use of any Nikon mounted lens on the F3 camera.
As the worlds first third party adaptor for the F3, it meant that users could buy the camera as a body only and use their existing Nikon glass instead of the much more expensive body and PL lens package.
MTF Director Mike Tapa said: "We are honoured to receive this prestigious award.MTF is a relatively new company with a small team so we are extremely proud that our work has been recognised by the Guild.
"The GTC Awards, sponsored by the Vitec Group, and in association with Zerb, were presented on 11 May 2012 in Birmingham as part of the Guild of Television Cameramen's 40th anniversary celebrations."
Mike has worked as a mechanical design engineer in the film and broadcast industry for just over 20 years. In that time Mike has worked on many projects including lens design, various lens conversions, underwater camera housings, arial camera systems, covert cameras (glasses, pens, buttons etc.) as well as miniature cameras for sports (snooker pockets, cricket stumps etc.)
With experience in seeing a project through from the CAD (2D & 3D) stage to personally manufacturing prototypes, collimation, projection, MTF testing and even engraving, Mike has a track record which is second to none.
Mike has also become familiar with many aspects of film and broadcast production from camera use, both film and video, non liner editing systems, Steadicam operation, in vehicle and on vehicle camera set ups to head and tripod servicing.
However, Mike's main area of expertise is mechanical/optical design and over the years, has been part of the development team of some award winning products.
Visit:
www.mtfservices.com
(GK)
Top Related Stories
Click here for the latest broadcast news stories.