Broadcast News
15/05/2012
Nucoda Colourist Aidan Farrell Wins Bafta Special Award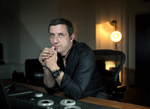 Renowned Nucoda Colourist Aidan Farrell was last night presented with BAFTA's Special Award at the British Academy Television Craft Awards.
The award recognises his outstanding creative contribution to the industry and his extensive work and accomplishments in his field.
Farrell, who has a Nucoda suite at The Farm in Soho, has worked on many high-profile television documentaries and dramas in recent years including: The Devil's Whore, Wallander, Boy A, The Shadow Line and the mutli-award winning Downton Abbey.
He said: "I'm extremely honoured to have received this award. The fact that BAFTA has considered my whole portfolio of work to date is incredible and I'm delighted."
A perfectionist, Farrell likes to push the creative boundaries for his craft giving an edge that moves away from the traditional.
When talking about grading Downton Abbey's first series on Nucoda Film Master he said: "A lot of period features and programmes have a very de-saturated look with soft blacks and highlights. It's almost as if we have to immediately tell the viewer it's a period piece from the outset.
"In real life, or in any movie you're drawn to visually, you don't see all the detail all the time in every shot. No matter what period the piece that you're grading is set in, the colour of the trees the sky and the natural habitat was the same colour as it is today. There seems to be a trend to brown and dull down the picture creating colour contamination where there's no separation of primary or secondary colours and everything blends into each other. With Downton the main objective was to come up with a very modern and fresh approach."
He's recently begun test shots on the Nucoda for the third series of Downton Abbey, which is back on UK screens in the autumn.
www.imagesystems.se/digital-vision/products/nucoda.aspx
(GK)
Top Related Stories
Click here for the latest broadcast news stories.