Broadcast News
29/01/2010
PNY Unveils NVIDIA's 3D Vision Glasses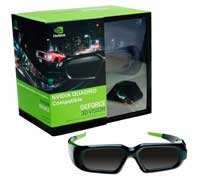 A manufacturer of a full spectrum of high-quality computer products is delighted to announce the launch of NVIDIA's Quadro compatible 3D vision shutter glasses. Thanks to PNY, users of professional software solutions will be able to activate the high-definition 3D stereo solution, enabling them to see images in 3D.
A wide range of professionals such as geologists, designers and architects will now be able to benefit from the fully supported Open GL Quad-Buffered stereo technology offered by NVIDIA's Quadro graphics cards. By combining 3D Vision Quadro compatible glasses, a 3D ready-display and a supported NVIDIA Quadro graphics card, any professional application using Open GL quad buffered stereo can easily be transformed into an immersive 3D experience.
Many professional applications, such as AutoDesk's Maya, Dassault Systemes CATIA, Landmark GeoProbe, support quad buffered stereo natively. Additionally, some applications support quad buffered stereo with custom plug-ins.
"Quad buffered stereo provides each eye with a unique view from a slightly different perspective by using four buffers (front left, front right, back left, back right) rather than the traditional two buffers (front and back)" explained Laurent Chapoulaud, Marketing Manager EMEA Professional Solutions at PNY Technologies. "In addition, quad buffered stereo lets users view stereo smoothly either in full screen mode or with multiple windows on their display. This technology provides the highest visual 3D stereoscopic quality required by professionals and enables better productivity during reviews and design iterations."
For more information visit:
www.pny.eu/quadro
(BMcN/BMcC)
Top Related Stories
Click here for the latest broadcast news stories.