Broadcast News
17/06/2010
Practical 3D Movie Making & Beyond Launched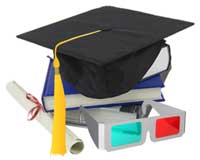 Due to customer demand (and general hassling by industry colleagues!) Jack Ezra of 3D Experience Ltd, UK, has launched the Practical 3D Movie Making & Beyond courses.
Jack has over 25 years of practical experience in producing 3D stereoscopic content & developing 3D technology.
The course is divided into two options: The 1 Day - "Crammer" course and the 2 Day - "Brain Buster""course.
Course Topics include:
Hands on - Let's get filming in 3D using a side by side camera rig
To genlock or not to genlock – quick tests for checking shutter sync
Camera relationship, geometry, alignment & set-up
Dynamic adjustment of separation & convergence
Start / Stop / Zoom with Lanc & ways of operating 2 cameras together
On a tight budget or money no object - 3D camera rig options
Vehicle mounts, fixed 3D parameters & locked-down rigs
The 30th rule – if, how & when to break it
The magic of 3D CamBuddy - Saving money & hours of post
Do's & don'ts when using z depth in the shot
Syncing, editing & adding effects / transitions to dual streams
Addressing & fixing 3D associated edit problems
Creating audio for 3D in stereo or 5.1 surround
Monitoring 3D with & without 3D glasses while editing
Quick and easy 3D text to advanced stereo titling
Stereo 3D Computer graphics with live action
Creating & Outputting Anaglyph & other stereo 3D formats
Sky, RealD and other professional 3D output formats
3D Displays, Projection, Viewing methods & Technology
3DHD Multimedia PC with Stereoscopic Player software
Past, Present & Future 3D Technology with & without 3D glasses
Further information can be found on the 3D Experience at:
www.3dexperience.co.uk/courses.html
(BMcN)
Top Related Stories
Click here for the latest broadcast news stories.