Broadcast News
28/01/2010
Cinesite Launches New Production Services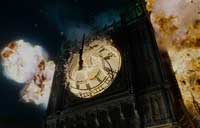 On the back of increased client demand for physical effects capabilities, a film and TV visual effects company have launched their own production services.
The new division of Cinesite, based at Shepperton Studios in Middlesex, expands the company's award-winning miniature construction and photography services by adding effects element creation and photography, water-based photography, equipment hire and prop-making skills. These neatly complement the company's world-renowned 2D and 3D CGI effects services. (Photo: From V For Vendetta, copyright Warner Bros.)
Headed up by José Granell, who has more than 30 years experience in the miniature and physical effects industry, the new services make Cinesite Production Services the most diverse physical effects company in Europe. High-profile projects include producing the scale model of Hogwarts for the Harry Potter film franchise, creating Wonkaville for Charlie and the Chocolate Factory and the grand finale parliament explosion sequence in V for Vendetta.
José's team can offer anything from creating a live-action snow environment or complete miniature cityscape through to an end-to-end equipment hire service. It hires out wind, smoke, steam and wave machines, cobweb guns, glass tanks and gimbals, while the props department designs and manufactures props of any size for use in theme parks, themed events, exhibitions, theatre, still photography shoots and commercials, as well as film and TV productions.
Antony Hunt, Managing Director of Cinesite commented: "We've been able to expand our offerings because of the highly skilled team we have at Shepperton. Our clients have been asking us to make props to order, create and shoot elements such as fire and rain, and provide water-based photography.
"We're also seeing a demand for vfx elements from visual effects houses. With these new offerings we're now able to give our clients exactly what they want and ensure that Cinesite Production Services continues to grow."
All of Cinesite Production Services' physical effects are planned and created with digital integration in mind.
Granell explained: "We liaise closely with digital visual effects supervisors to ensure that our work can be seamlessly integrated with digital effects in post production, making physical effects not only a creative choice, but a cost-effective one as well."
For more information about Cinesite Production Services, please visit the new website at:
www.cinesiteproductionservices.com
(BMcN/GK)
Top Related Stories
Click here for the latest broadcast news stories.