Broadcast News
30/11/2009
Sony And Belden 'Reach for The Sky'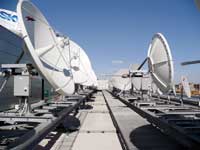 One of the world's largest new installations in high definition broadcasting has taken place in Europe.
More than 1.2 million metres of Belden high performance cables were used for the new headquarters of Sky Italia. Sky Italia wanted to centralise all of its activities into one single location supporting and reinforcing its strong growth.
Due to absolute signal integrity and no system downtime, Belden high performance cables were employed to support future HD programming.
The new headquarters, located in Milano Santa Giulia, Italy are to combine the company's extensive studio complex, transmission facilities and administrative offices.
In addition to ensuring that the new facilities meet today's specifications for HD programming, the entire installation needed to be future proofed, as the industry's output improves and customer requirements and expectations rise.
Another key technical challenge was that throughout the relocation and installation processes, Sky programming would need to continue as normal, without any interruptions to services.
Sky Italia selected Sony to manage the installation throughout the entire complex. As one of the world's leading installation companies, Sony has an impressive track record both in terms of quality and scheduling. Sony's proven ability to run a project of this size was key to the decision.
Having been asked to ensure that all new cable systems could meet Sky Italia's more extensive demands for the future, Sony was looking to work directly with a wire & cable manufacturer for an optimised relationship on technical, operational and commercial levels, to offer them access to an extended portfolio and provide them with the most cost effective and the highest quality solutions.
After assessing the various options available for Sky Italia, Sony chose to work with Belden to accommodate all of the cabling needs of this project.
The tests carried out on cables – especially on HD coaxial cables delivered excellent results.
Belden's HD designed coaxial cables can support high frequencies, are physically robust and require simple connectivity.
As the first cable manufacturer to increase its sweep testing from 3 GHz to 4.5 GHz for all coaxes, Belden performed 100% sweep testing to 4.5 GHz on every reel of HD cable and provided certification to assure unequalled levels of cable signal integrity and reliability, with lower return loss at higher frequencies.
Belden's ability to offer constant support through samples and tests was seen as a significant benefit in providing Sony with technical and commercial support at high levels.
According to Marco De Maldé from Sony, Belden was able to offer more than just the right materials: "Thanks to their extensive international experience in major events and installations, we found that the Belden team was very well qualified to deliver practical solutions, saving measurable time and money whilst ensuring the highest possible performance."
For more information visit:
www.belden-emea.com
(BMcN/BMcC)
Top Related Stories
Click here for the latest broadcast news stories.