Broadcast News
30/11/2009
Argosy And Belden Agree UK Distribution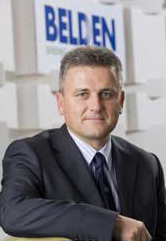 Two leading suppliers to the broadcast industry have joined forces to meet the needs of the professional audio visual communities.
Belden, a supplier of signal transmission solutions for the broadcast industry, has announced that it has signed an agreement with Argosy, a UK-based international supplier of HD broadcast cables and studio infrastructure products.
Under the terms of the agreement, Argosy will distribute all of Belden's extensive range of products, designed specifically to further support audio visual professionals. In broadcast, top performance and reliability require absolute signal integrity and no system downtime.
Belden products provide performance for both critical field applications (where cable is dragged, crunched and trodden on) and permanent studio installations (where the long run is all important).
These products are also an important link in major network and cable TV broadcasts, film studios and corporate broadcasting.
Speaking on behalf of Belden, Paul Turner (pictured), Vice President Sales & Marketing for the EMEA region, commented: "Our agreement with Argosy complements our existing partner base in the UK. We know that customers choose Argosy for their ability to serve the market with the best products available today and they will now have even more choice as they gain access to the full range of Belden solutions."
Mr. Turner added: "This move underlines Belden's aspirations to grow in the UK. Our strategy is to work with the best in the business. Argosy is one of the country's premier distribution partners in the broadcast market and this partnership will help to strengthen our position in the UK's professional broadcast market."
Mike Purnell, Director of Argosy commented: "Belden has a very solid international reputation in the HD broadcast and Audio Video Information Technology (AVIT) sectors and we are delighted to be able to add their cable range to our extensive infrastructure product line up and support their business across the UK."
He continued: "With projects becoming more complex throughout the production chain, Argosy's ability to continue to provide first-rate resources, service and support for installations will be of considerable benefit to Belden and its customers."
To underline its commitment to the UK market and to enhance its competitive position, Belden has rationalised its main pricing structure.
Paul Turner concluded: "We have set out to be ultra-competitive in the professional broadcast market across EMEA. Following a major pricing review, Argosy is able to offer cost-effective quality Belden solutions to the market. We will never stop looking for ways to develop business opportunities, with leading partners and customers."
For more information on Argosy & Belden, please visit:
www.argosycable.com
and
www.belden-emea.com
(BMcN/BMcC)
Top Related Stories
Click here for the latest broadcast news stories.