Broadcast News
26/11/2009
Anti-Christ Controversy Visits Foyle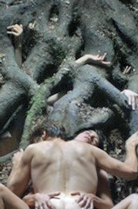 A controversial film that caused a stir at Cannes earlier this year is to be showcased at a regional cinema.
The Omniplex in Northern Ireland's Derry City is to screen the horror film Anti-Christ as part of the 22nd Foyle Film Festival. Written and directed by Dane Lars von Trier, the horror flick is said to have made some audiences members faint due to the film's explicit violence.
Dane won critical acclaim for previous projects including, Breaking The Waves, Dancer In The Dark and Dogville. Anti-Christ sees a couple who - after the death of their child - retreat to a cabin in the woods where they encounter strange and terrifying occurrences. The film stars only two actors, Charlotte Gainsbourg and Willem Dafoe.
Since premiering at the 2009 Cannes Film Festival where Gainsbourg won the festival's award for Best Actress, the film has come under attack for what some critics view as misogyny, as well as for featuring explicit sexual violence.
At the same time many critics have also praised the film for its visuals and serious approach.
Bernie McLaughlin, Festival Director and Programmer, explained why the festival team felt that the film should be included in the programme: "Film can reflect the best and worst of us and often filmmakers can use sensational themes to capture the audience's attention.
"While Anti-Christ has received its fair share of controversy, the response in Cannes dictates that people make up their own mind on the film. Cinemas purpose is not only to entertain, but also to challenge paradigms and create discussion. In this, Anti-Christ delivers."
For more information on Foyle Film Festival log on to
www.foylefilmfestival.org
(BMcN/BMcC)
Top Related Stories
Click here for the latest broadcast news stories.