Lighting Gels Companies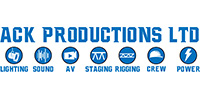 A new dimension to your product. A theatre without light and sound is like an actor without a script, a singer without a microphone or a talent show contestant without a sob...


Roscolab
Kangley Bridge Road, London
Tel : 020 8659 2300
Rosco are world renowned for their unique ranges of colour correction and colour effects filters, including Supergel, Cinegel, and E-colour+. There are products for every...