Production Companies - Charity Videos News
Using Video To Build Your Brand
So, your organisation is exceptional, with great products and customer service but does your marketing reflect your true value, asks Minamonfilm.
Production Companies - Charity Videos Companies
In Sussex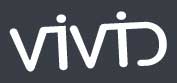 Established in 2005, Vivid provide broadcast and production services across to clients for online, live, terrestrial, and satellite distribution. Some of our recent clients...


MBM Productions is a video production company based in Brighton. The company offers a full range of services which include video production, photography services, animation...