Company:
Vivid Broadcast (Outside Broadcast)
Contact:
Rory Springthorpe
Address
Unit 7, Honeycrock Farm,,
Axes Lane,,
Surrey,
Salfords,,
RH1 5QL,
UK

About Vivid Broadcast (Outside Broadcast)
Established in 2005, Vivid provide broadcast and production services across to clients for online, live, terrestrial, and satellite distribution.

Some of our recent clients include BBC1, BBC2, Sky, Movistar, Red Bull, and Dave, along with many other independent production companies and broadcasters – from Outside Broadcast (OB) Trucks and Flypacks all the way to complete production and programme development. We also have a wide range of specialist kit including jibs, drones, tower cams, underwater units, and gyro-stabilised heads.

We love finding ways to engage audiences, create entertaining shows and integrating new technology to provide bespoke solutions for our clients. Whether it's developing shows for Pinewood Live, creating tools for capturing the BBC Antiques Roadshow or IP broadcasts from remote locations, we specialise in developing the right solution for each project and seek to bring a fresh approach to what we do.

Our Outside Broadcast Trucks include our highly capable, compact OB1 with separate audio, production and engineering space, this truck provides a high end production facility that can fit into the tightest of spaces. For those on tight budget requiring a good size gallery, OB2 is a little 'big' lorry with creative and flexible gallery on a small footprint. Or there are the 'Director's favorite' - our fully scalable multi-camera Flypacks. Modular, high spec'd, fast to rig and designed with the user in mind these units are superb to use in any set up.

See more at www.vividbroadcast.co.uk or contact us today on 0208 0358010.
Twitter Feed

Facebook Feed
Find Vivid Broadcast (Outside Broadcast) in
Location of Vivid Broadcast (Outside Broadcast)
Outside broadcast Sponsors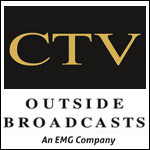 Outside Broadcast London South of England
Outside Broadcasting & Satellite Services
OB Vehicles
Contact us 020 8453 8989

Independent Outside Broadcast Facilities Company in the UK and amongst the largest in Europe. Mobile television OB trucks vans unit providing outside broadcast facilities with recording, live feeds and webcasts in digital and widescreen formats

Links Broadcast is the UK's leading provider of satellite broadcast and portable production facilities. We operate an extensive fleet across the UK, including 4K/UHD & HD uplinks as well as hybrid OB/SNG production facilities.