Production Companies - Charity Videos News
Using Video To Build Your Brand
So, your organisation is exceptional, with great products and customer service but does your marketing reflect your true value, asks Minamonfilm.
Production Companies - Charity Videos Companies
In Cheshire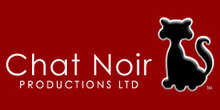 Chat Noir is a one-stop video production company, providing Creative Video Solutions to clients around the UK. We produce: Corporate VideosPromotional FilmsTraining /...


The Business Video Company is a team of professional and creative individuals dedicated to helping our valued clients to communicate their message through effective Video...