Aerial - Photography Sponsors

Award winning Drone hire aerial filming & CableCam filming. Regularly hired and trusted by Producers & Directors.
Special permission to operate up to 10m in congested areas
Heavy lift
Live broadcast
Night flight permission
Aerial - Photography Companies
In Northumberland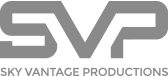 "I am the director & chief Pilot at SVP; having worked in the industry with other professionals for many years, I have a true appreciation for the new technology and vantage...