Crew for Hire - International Sponsors

We supply kit and crews to many productions, ranging from single to multi-camera shoots. Most recently we have supplied all the PSC kit to ITV's X Factor. We also supplied all the equipment to the UK version of the Apprentice for BBC2

Since 2010, Newsworthy Vision Ltd. has been providing crewing and equipment to some of the world's largest television networks. Based in London, we specialise in international newsgathering and current affairs, remote location transmission of material, and multi-camera live event broadcasting.
Crew for Hire - International Companies
In County Antrim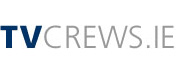 TV Crews.ie
13 Fitzwilliam Street, Belfast
Tel : Northern Ireland +44 28 9022 2300
Book a Film or TV Crew We know that when you need a crew you need it now. That's why we provide National Coverage, to make sure our clients get the best people, the best...