Telephone:
Northern Ireland +44 28 9022 2300
Mobile:
Southern Ireland +353 1 660 0055
Address
13 Fitzwilliam Street,
Belfast,
BT9 6AW

About TV Crews.ie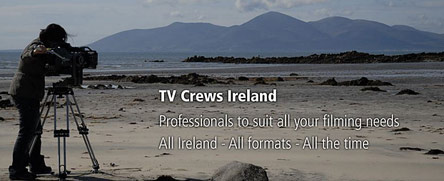 Book a Film or TV Crew
We know that when you need a crew you need it now. That's why we provide National Coverage, to make sure our clients get the best people, the best technology, the fastest turn around and the best Customer Service. 
Welcome to TV Crews Ireland
Our resources cover the Island of Ireland and Northern Ireland. No matter what sort of Crew you require we can match the equipment, skill level and people to suit your shoot and budget. Our staff and the personnel we represent are all highly experienced and fully accredited professionals. We ensure that the right person is put forward for your job, we look at each assignment individually and choose the best people in that specialist area. We believe that camera crews are about people and not just equipment. It is our objective to find the crew that matches your assignment. TV Crews Ireland offers a personal approach so please contact us to discuss your requirements and we guarantee to find you the best option for your filming in Ireland.   
We hold several contracts with major broadcast stations and pride ourselves on the speed of how we serve all our customers and the ease of how we do it for them too. Whatever your project, whether it's a corporate production, full documentary feature, news or sports, current affairs or drama. We can provide the right people for you on whatever format you desire.
Equipment & Studio
We offer many different shooting packages to suit your requirements: ARRI ALEXA, RED EPIC, SONY F5, SONY FS7, SONY FS5, SONY PMW-200, CANON C300, CANON XF-305, CANON 5D, GO PRO etc.
We also stock a large selection of lenses such as Cooke S4i, Zeiss Superspeeds, Optimo zooms and many more. TV CREWS.IE holds contracts with Sky, ITN and HBO. We are also a BBC wet and dry hire preferred supplier.
TV CREWS.IE headquarters features a brand new state of the art Studio, Production Offices, Post Production Suite, Catering Facilities and Shower/Make Up rooms. 
Our Studio consists of: 140 Square Metres of Floor space, 270 Degree Black Out Drapes, Green Screen Facilities and a fully adjustable Lighting Truss. 
We also offer high spec production office facilities right in the heart of Belfast. Our Production Offices feature: high speed broadband, separate phone lines, Kitchenette, Toilets, separate entrance as well as an alarm system and parking spaces.
If you need a camera crew in Ireland or Northern Ireland, you have come to the right place! TV Crews.IE is by far the fastest response crew company for camera crew hire, 24 hours a day 7 days a week.
With our large database of experienced freelance camera crews & other production personnel we can offer you the right people you are after, tailored to your needs.
If you need a full documentary lighting crew, or just a news crew, we can provide what you need as close to your chosen location as possible on your desired filming format, and on the dates you need to film. Producer, director or reporter should you choose not to send someone over from your company.
Need the footage back? We can organise getting the footage to the nearest satellite feed point or we can organise an international courier to get the tapes back to you.
Enquire Now
Belfast Office
+44(0)28 9022 2300
Contact the Northern Ireland office on this number if you require an immediate response.
Dublin Office
+353 1 660 0055
Contact the Southern Ireland office on this number if you require an immediate response Alternatively, TV Crews phone lines are answered 8am -10pm GMT or you can drop us an email:
​

info@tvcrews.ie


Broadcast Rental Company
HD Cameras
Sound
Lighting
Crews
Multi-Camera Rigs
Supplying television producers in London, NY and around the world

London based Broadcast Equipment Hire & Crews for all your Video Production needs.
Credits include:
The Apprentice
Jimmy's Global Harvest
Locked Up Abroad
The Queen

Technical Crew Hire & Cameraman for TV, FILM, BROADCAST and Corporate Productions, based in the North East of England.