Camera - Operator Sponsors
Broadcast video camera crews provided ranging from DVCAM to High definition acquisition.
Camera - Operator Companies
In Northamptonshire


Experienced TV Lighting Cameraman with full kit available. Producer/Director attributes. Aerial, daytime TV, documentary, environment/agriculture, natural history,...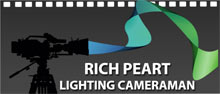 I'm a Freelance Lighting Cameraman, my current kit includes C300 mkii & mki and various lenses as well as a lighting kit. I'm also available with other camera systems. I...