Corporate Video Production Company
A comprehensive directory of the top corporate video production comapnies in the UK.
Corporate Video Production Company Sponsors

Filming & Editing
From script to duplication
Events & Promotional Videos
Video for corporate, business and public sectors
Rich content specialists
Worldwide experienced crew
020 33724419

The Theory is a film and video production company that creates corporate films, brand commercials and direct response TV adverts. We're HDSLR specialists. We make stuff you want to watch. We do it at a great price.

We are a creative film production company based in London. We also create photo-real visual effects that bring products and environments to life.
Corporate Video Production Company Companies
In Peeblesshire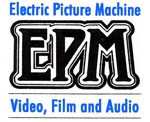 EPM has been producing corporate promotional and educational programmes since 1982. More recently the company has been creating and designing DVDs together with behind the...