Lighting Cameraman Sponsors
Lighting - cameraman - Midlands - UK
Camera crew - Worcestershire - England - UK
Broadcast - cameraman - Birmingham - UK
25 yrs exp BBC ITV C4 SC4
call Paul on (0)1562777186 or Mobile (0)7836523754

Experienced Broadcast Lighting cameraman
Own RED / P2 varicam / HD & XD Cam shooting kits
Jimmy jib and Steadicam owner operator
Crews and equipment hire
London and Bristol bases

CAMERA CREW HIRE. 4K & HD:
Own Sony FS-7 XDCAM Full Camera kit
Polecam 4K/HD (Camera Crane) Owner Operator
Broadcast Crewing for Northern England/Scotland
Latest DJI Ronin Camera stabiliser. 4K or HD
Call Tom Paterson on 07973 223302
Lighting Cameraman Companies
In Northamptonshire


Experienced TV Lighting Cameraman with full kit available. Producer/Director attributes. Aerial, daytime TV, documentary, environment/agriculture, natural history,...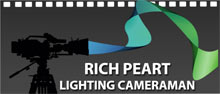 I'm a Freelance Lighting Cameraman, my current kit includes C300 mkii & mki and various lenses as well as a lighting kit. I'm also available with other camera systems. I...