Company:
Best Flight Cases limited
Address
Unit 7, LAMSON ROAD,
FERRY LANE NORTH INDUSTRIAL ESTATE,
RAINHAM ESSEX,
RM13 9YY

About Best Flight Cases limited
Situated in Rainham, Essex, near the M25 Junction 30/31,access from A13 Ferry Lane North Industrial Estate, with extensive design, workshop and warehousing facilities, BFC houses a team of designers and technicians dedicated to creating the best possible protection for your equipment and kit - without compromising on presentation, protection or branding.
Hand built in the UK, BFC uses only the best materials and will source bespoke elements if required.
With customer service at the heart of what we do, our focus is to surpass expectations and meet your deadlines.
Specialists in our field, we are often able to create beyond spec flight cases and transport equipment that others simply cannot match or reproduce. Our state of the art laser technology and extensive experience, means customer satisfaction and recommendations every time.
Why not visit our studio today and talk through all the options available to you.
Book an appointment.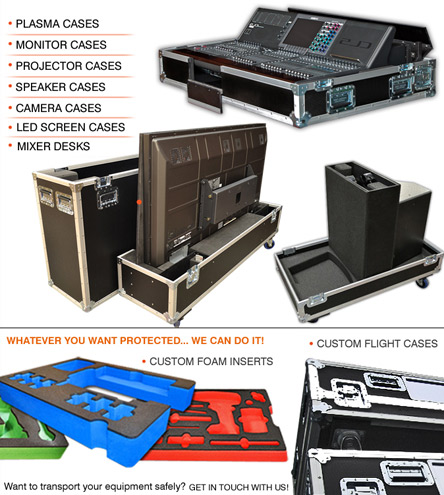 CUSTOM FLIGHT CASES
Audio Visual Flight Cases
Briefcase Style
Console Flight Cases
Hybrid Extrusion Cases
Lighting Flight Cases
Model Flight Cases
Rack Cases
Road Trunks
Toolbox Cases
FOAM INSERTS
Products / Services / Credits
Wheeled Flight Case For Profoto B4 1000 Air Kit
Twitter Feed

Facebook Feed
Find Best Flight Cases limited in
Location of Best Flight Cases limited

Flight Cases
Metal Rack System
Plastic Cases
End Caps
Foam Inserts
Rigidized Cases
Screen Cases

Custom Cases
Rackmount Cases
Waterproof Cases
Plastic Cases
Foam Inserts
Phone Cases & Covers
Flight Case Accessories
Gun Cases

19″ Racks
Protective Cases
Rugged Textiles
Camera Rain Covers
Flight Cases
Aluminium Products
Climate Control
ProBag
Tel:+44 (0)20 8568 1881