Address
James Nasmyth Way,
Eccles,
M30 0SF,
England UK

About HNA Facilities
Since establishing the business in 1989, we have spent the last two decades servicing the requirements of the television and film industry with a fleet of over 100 vehicles.
By providing the latest high quality vehicles and friendly helpful operators, we've gained a strong reputation within the media industry and feature on many preferred supplier lists.
Whatever your production or your budget requirements, here at HNA, we guarantee a competitive, unrivaled quality.
Vehicles
Make up
Costume / Wardrobe
Three ways
Two ways

Artist trailers
Production office
Dining trailers
Honey wagons
Generators
Camera cars
Construction trucks
Props trucks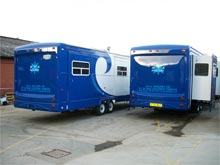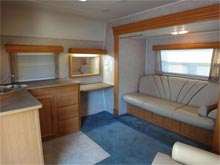 Delux Diners
Now there's a new, independent, 'deluxe' alternative to those old, cramped, converted buses.
Delux Diners are purpose-designed, purpose-built dining trailers providing a new higher standard of comfort, convenience and quality with seating for up to 100 diners.
Delux Diners specially caters for the catering industry on set of television, films and sporting events.
Upper and lower dining floors
Light and bright environment
Increased head-height for extra comfort
Modern comfort-moulded seating
Smart, hygienic dining tables
Health & Hygiene compliant food servery
Central heating & Air conditioning
On-board hand washing
Cool water drinks dispenser
Background music system
Tinted windows for privacy & comfort
SEATING FOR 60 – 100 DINERS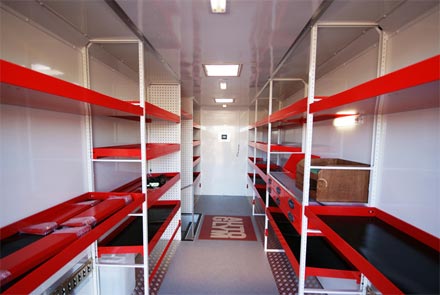 Extra reliability too
Those old buses are notorious for breaking down in between locations, but DeluxDiners dining trailers are hauled by modern tractor units. The trailers can never break down, meaning they will be exactly where you need them … exactly when you need them.
Hair and Make-up Trailer
Our hair and make up trailers are purpose built to provide up to seven make up pods and a hair washing station.
The pods have large mirrors, 'daylight' lighting, hydraulically operated chairs and ample storage within wire wall mounted baskets, cupboards and drawers.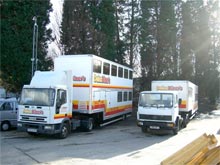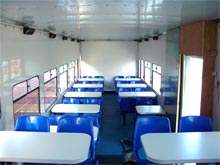 Costume/Wardrobe
Our costume trailers are equipped with approximately 200 ft of hanging space divided between full and half height hanging rails.
Kitchen facilities are provided complete with sink, hot and cold running water, drying area, washing machine / dryer and twin tub / spin dryer upon request. There is also an office area to the front of the vehicle.
Artist Trailers
Our artist's trailers (one ways) are specifically designed and purpose built to accommodate one principle artist in their own self-contained trailer.
These trailers have two sofa-beds (one single, one double) and are supplied with televisions, radios, dressing tables, wardrobes, hot drink facilities and adjoining shower / bathrooms.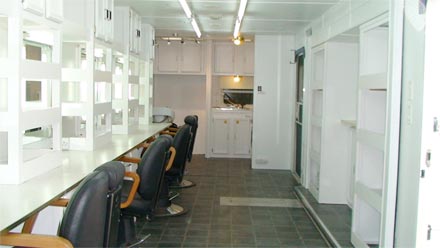 Location of HNA Facilities