Company:
Masterimage 3D Plc
Address
Heath Farm 1,
Pinewood Studios, Pinewood Road,
Iver Heath,
SL0 0NH,
Buckinghamshire

About Masterimage 3D Plc
Masterimage 3D Plc is an international 3D technology company with a base of operations at Pinewood Studios. The company design and manufacture 3D technology for use in theatres and on mobile devices. Masterimage 3D design each piece of their technology to work perfectly on each medium as well as delivering the technology to businesses in a way which ensures 3D technology is available to the widest audience possible.
Find Masterimage 3D Plc in
Location of Masterimage 3D Plc
Related Companies

Vision3
2 Gower Street, London
Tel : 0207 099 8655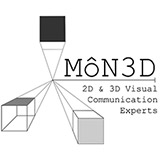 Related News