Company:
Modern Wave Studio
Address
85 Cruso Street,
Barnfields Industrial Estate,
Staffordshire,
ST13 8BN

About Modern Wave Studio
Modern Wave Studio is a music-recording studio specialising in recording, production, mixing, and mastering. The studio is a creative, relaxed and professional environment with state of the art equipment in digital and analog recording technology.
The studio is highly flexible and is able to cater for a whole host of recording, mixing, engineering and mastering requirements.
Modern Wave Studio is a teaching academy, has a large rehearsal space which is on ground level with drive in access, musical equipment storage space and an in-house designer (BA Hons Degree in Design and Applied Arts) for album artwork, business/band logos and promotional material (flyers, leaflets, business cards etc.).
We have a 4,000 square ft. live room, a very useful venue for video production teams, available to hire.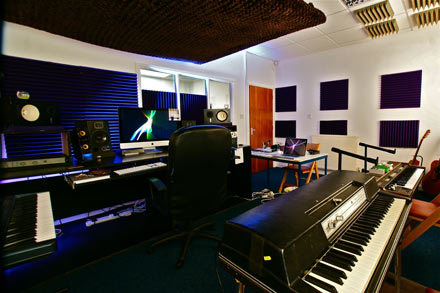 Why Choose Modern Wave Studio
You leave with what you want
High quality equipment
Experienced staff in a day lit studio at an incredible location
2 minute walk from a major super store for a place to eat
Nearby accommodation available from here: www.holidaylettings.co.uk
Services Include:Recording
At Modern Wave Studio, we have a large control room, two isolation booths and a huge 4,000 square ft. live room. There is plenty of space to relax; we have an artist chill-out area with large kitchen facilities, free WIFI, WC and showers.
The studio is built to be as flexible as possible to offer as many recording solutions as required.
Our large live room can comfortably accommodate a full band and a medium sized audience (roughly 300 people), or a full choir or orchestra.
The studio operates using the latest in digital technology including a 27" Apple IMac and MacBook Pro with Pro Tools 9 & Logic Pro 9, top quality microphones, an in-house DW Collectors Series drum kit, Ludwig Black Beauty Snare Drum and Zildjian K Custom cymbals and DW hardware, various acoustic and electric guitars and keyboards including an original Wurlitzer and Leslie cabinet.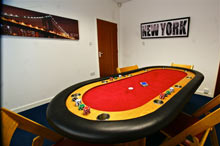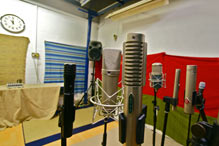 A range of professional monitors including ADAMS, Yamaha NS10's outboard units including Neve, API, GML, Urei, Avalon, Focusrite, microphones including Neumann, Sennheiser, Shure, Royer, SE Electronics, AKG, Electrovoice and much more.
The studio is fully equipped with digital and analog technology to ensure nothing less than pristine clarity, so come and take advantage of the huge space and top quality sound.
Mixing
Modern Wave Studio has the latest in recording technology equipment and an experienced producer/engineer to ensure your recordings sound balanced and professional.
We have worked with hit names like 80s legends 'The Christians' who have sold over 1 million records and we have currently teamed up with a member of The Stereophonics, Tony Kirkham who is available for production.
Other Services:
Production
Voice-overs
Mastering
Location Recording
Recording Gifts
Photography
Artwork and logo design
Teaching Academy
Rehearsal space
Music equipment storage space
Venue hire for video shoots
Find us on Facebook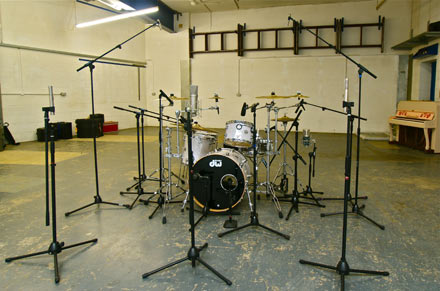 Reviews for
Modern Wave Studio
Modern Wave Studio

I am a Female Soloist on the South Staffs Circuit and I have had a CD recorded by Matt before, however this time I was looking to record tracks so that I could promote my new Wedding Singer Venture. I had 15 tracks recorded at Modern Wave Studio and the experience was second to none. Matt makes you feel welcome as soon as you call to arrange the session and works really hard so that you go away happy with something you can really be proud of. I would recommend this studio for all of your recording needs as the studio itself can cater for acts like myself to big bands. Matt works really hard to make sure that everyone is looked after and you have the quality recordings that you expect. Great service, great guy. Would recommend them to anyone. Cheers Beverley
Beverley Woodward
, 01/04/2012
Modern Wave Studio

Really amazing place with fantastic facilities and really nice owner!
Modern Wave Studio

This is a great studio and amazing value for money, Matt really dose go above and beyond to make sure you get the sound you want, it's nice to be in a studio that is in it for the love of music more than the love of lining their pockets. Matt always makes you feel welcome and is not just a great producer but an awesome musician. Back in 2009 Matt had a big input on our debut single that was released with gene pool universal and sold over 10,000 copies in its first week of sales, with mass nation TV radio play and even hit the shelves in HMV. We have chosen to work with modern wave Studio for our workshop program MIP that will be working with youth services from all over the UK, promoting Motivation Inspiration and Positivity though Music. Marcus & Lis The Cameleonz .
Modern Wave Studio

David Mckechnie.Pure Theatre,Cinemage,Sancho Panza I was introduced to Matt through a friend and was immediately invited down to check out Modern wave studios and was blown away by the place...live rooms...vocal booths...and a control room a lot of big studios would be envious of, overall a great environment to get creative in. Plus the added bonus of Matt who knows his stuff and is very enthusiastic and encouraging. I worked on some original songs with Matt who's input was second to none from production skills to musicianship...He's also a great Drummer. So if you're looking for full in house production or recording your band or you're a singer song writer with just ideas i highly recommend Modern wave....its got it all!
David Mckechnie
, 01/04/2012
Modern Wave Studio

I came into contact with Modern Wave studios around a month ago, i really didn't know what to expect. When i entered the building i was greeted with the warmest welcome, and was chucked straight into the hands on aspect of mixing. With the help of Matt Ball i have learnt the basics of logic and pro tools within only 3 sessions, from no experience with music technology at all. Matt is extremely patient, and is a brilliant teacher, who puts in a great deal of enthusiasm into helping others. The equipment supplied is outstanding, and for a small town like leek this studio is definitely a blessing. I recommend this studio to anyone who is involved with music!!
Billie Graham
, 01/04/2012
Modern Wave Studio

I was given some money for my birthday but wanted to "Do" something that would involve my friends and dancing so I visited Modern Wave Studios with my friends and we made a "Pop" video! I really didn''t know what to expect and was a bit nervous about being filmed, but after 10 minutes my friends and I really got really into the dancing with the help of the brilliant team there. They were so much fun, professional and really knew how to get the best out of us which made for a fantastic Video that I can keep forever! It really was one of the best birthday''s I have ever had and we all laughed so much all day with the team! I totally recommend a visit as the photography sessions we had done too, were amazing! They have all different kinds of props to choose from and I really was over the moon with the whole day. Thank you so much Modern Wave Studios it was a top day and my friends had a great time too! We will definitely be back
Wendy Bucknell
, 01/04/2012
Modern Wave Studio

When i first went to modern wave studios i didn't know what to expect. After studying music technology for a year at college i thought i knew a lot but after one 2 hour session with Matt he taught me more than i had learnt at my whole time at college. Each time i go i get more amazed at how much knowledge Matt has and the equipment on offer is outstanding. Overall i think that modern wave studio is an amazing contribution to leek, and offers people a once in a life time opportunity that you couldn't get anywhere else.
Modern Wave Studio

What can say, brilliant. I bought a gift voucher for my wife from Modern Wave Studio and she totally loved the experience from start to finish. Once she decided on the three tracks she wanted to record she placed herself in Matthew's hands and he followed the process through with complete professionalism.
Modern Wave Studio

We had a great time at modern wave studios, the demo was the best we have done, and most of that was down to the equipment and producing of mat. he is an amazing musician, and producer of great tracks. I would recommend this studio to any one!!!
James Williams
, 01/04/2012
Modern Wave Studio

Modern Wave Studio is a one stop for every band / musician's need's whether its recording, photography or filming a video. Matt's a top bloke with good knowledge of what he is doing! Plus i'll be buggered if you can find a better place to record drums, epic!!!
James Fitchford
, 01/04/2012
Modern Wave Studio

THE CHRISTIANS (Forgotten Town, Ideal World, Harvest for the World etc etc) hired Modern Wave to record their new album 'Speed of Life'. I can't rate it high enough ... first of all spacious, pretty impressive state of the art stuff .. brilliant sound .. Matt is a natural host ... he manages to be super efficient, helpful and accommodating without getting under your feet - his production skills are way beyond his years and WOW just generally loved the place and loved Matt. Its not the easiest of tasks delivering on Mr Garry Christian's expectations but somehow Matt Ball delivered over and above - oh ... and we really liked the price and you won't hear me saying that ever again. Emma Roberts ... manager THE CHRISTIANS
Modern Wave Studio

I approached Matt for help towards a university project of mine, knowing that the results i would come away with would be exactly what i required. Due to my project specifics, the methods we used were focused completely around outboard gear, with no internal or post processing what so ever. Of recent i have been trying to spend as much time as i can at Modern Wave Studio and hope to be able to continue this for as long as possible, his work with other Artists/Bands is of the highest standard and would recommend Matt and Modern Wave Studio to anyone
Modern Wave Studio

Recently had our first session at Modern Wave Studio and cannot recommend it highly enough. The location is perfect, The facilities are really comfortable and well equipped (it's the only studio I've ever been to with indoor parking!!!) and Matt is a complete expert in sound recording. We recorded a live session and we literally could not believe the quality of the recording Matt produced for us in the space of one evening. There's nowhere else that can provide the range and level of service of Modern Wave Studio and we'll definitely be going back!!!!
Modern Wave Studio

Wow what a place Matt is great at what he does .have being trying for years to get the sound Matt got in two hours.will be back very soon thanks Matt
George lovvel
, 01/05/2012
Modern Wave Studio

Very good studio with lots of space and very nice owner.
Modern Wave Studio

My experience at Modern Wave Studio's was excellent. Very comfortable, easy going environment to record and the results were impeccable due to Matt's knowledge and feel for the music that he's working with. I will be using again in the future and couldn't recommend enough, thank you.
Steven Goodwin
, 01/04/2012
Modern Wave Studio

Took my daughter and son for their 9th birthday treat with some friends, to records 'Moves Like Jagger'. Absolutely fab experience and the kids thoroughly enjoyed and had a cd at the end of the day as a great memento. Matt was brilliant with the children, calm and cool with 10 9 year old children. The facilities are state of the art, and very important to me as a mum, CLEAN!!! The children want to do again. Cheers Matt
Modern Wave Studio

I have known Matt Ball for over 10 years and we started off as friends at college. Over the years our friendship grew and grew and I am now actually blown away at how amazing he has become as a producer. He also charges at very competitive rates. The last demo we recorded was the best we have done to date and I myself have done a massive amount of recording over the years in many different studios with many different producers. I dont want people to read this and think Im just saying these nice things because I am friends with matt, I mean every word I'm saying. In the studio he is the most professional I've ever seen him and he treated me no different from any of the other band members I work with. As soon as I have more money to pay for the recording fees, I will be recording again at his studio. Cheers for everything Matty! Your an absolute pleasure to work with! :D
Robin Soleimani
, 01/04/2012
Modern Wave Studio

We recently continued our long running working relationship with producer Matt Ball by recording for the first time at his brand new Modern Wave Studios Set Up In Leek! We regularly return to work with Matt due to the high quality end result , professional approach and comfortable surroundings recording with him has always brought! The New set up has only added to this, Matt now has the fantastic facilites to match his production and musicianship! The track we recorded has received wide acclaim on release! hitting 2,500 hits on youtube in less than a week! we put this down largely to the production quality achieved at Modern Wave Studio! No matter how far down the line in you musical carer you are, we have worked with matt for years and will continue to do so! To hear a lot of the work we have done with Matt, Please check out our website. TheWay Stef,Scott,Art,Jon
Modern Wave Studio

The studio is modern and spacious providing the ambiance for creativity whilst having the air of professionalism essential to master fine works. The studio has excellent support facilities for those on-going sessions, with a chill out area, full kitchen and shower facilities, there is just about everything you need to be comfortable. Matt is also an extremely talented musician and has a feel and understanding of what the artist is seeking which is reflected in the final production, he has the ability to add that little something that makes the difference between a good recording and a great one. No matter what level of performance you achieve presently, it will only be enhanced by a recording session at Modern Wave...you really should give it a try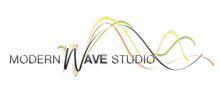 5

out of

5
based on
31
ratings.
user reviews.
Find Modern Wave Studio in
Location of Modern Wave Studio
Recording Studios Sponsors

We offer recording for:
Commercial voiceovers
TV/Film overdubbing
Animation / Gaming voiceover
Narrations
Radio drama
Audio commentary for DVD
Audio book recording
Sound design

Production
Recording
Mixing
Mastering
Voice Overs
Recording Gifts
Location Recording
Rehersal Space