About Book Me Direct
Welcome to BookMeDirect.com, we are now LIVE!!
We are a new social media networking site for the Entertainment industry and an online directory of talent and Entertainment professionals worldwide.
BookMeDirect.Com is unique in its position as a dedicated service for individuals and businesses working and serving the entertainment industry. Book Me Direct enables users to promote themselves and their businesses, network, communicate, advertise and apply for jobs as well as booking services direct.
The Book Me Direct Talent and Industry directories, enables members to create personal and business profiles with the capabilities to:
Upload Photos
Show reels & Casting Videos
Add Relevant experience's & Personal details
Network with other Entertainment Professionals
Apply for & place Jobs/Casting calls
BookMeDirect.Com is not an agency, we are a new social media networking site which enables entertainment Professionals to network with other entertainment professionals and help with the progression of ones career or promote ones business.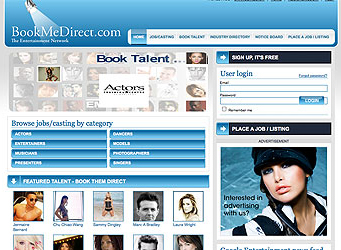 Location of Book Me Direct
Casting - Facilities & Services Sponsors

Casting Studios facilities ideal for commercial, film, television, theatre and corporate castings ideal for large casting calls
StarNow online casting directory for Reality TV casting calls, Dance & Music jobs, Photographers wanted - acting jobs, model auditions, music, dance, modelling, entertainers and performers casting calls and talent directories