Address
UK /Worldwide,
UK /Worldwide

About StarNow.com
Do you need actors or extras for your next film production? StarNow.com is an online casting community for actors, extras, models, dancers, musicians and more. With over 700,000 members worldwide, see why the biggest names in the industry prefer StarNow.com.
We provide a free, easy service for casting agents and directors to manage their casting calls and applications online.
StarNow.com has helped cast:

Actors and Extras for
* BBC
* ITV
* MTV
* C4

Models for
* Miss England
* Miss World Australia
* FHM
* Napoleon Perdis
Are you an actor, extra, model or musician looking for work? StarNow.com has something to offer everyone. You can create an online CV with photos, videos and MP3s. Don't miss your chance to get discovered.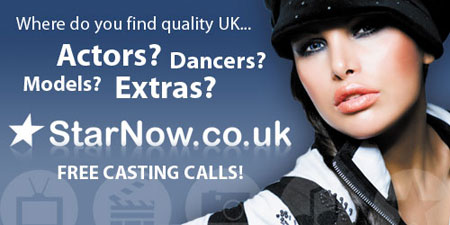 Casting - Agents Sponsors

Casting agents specialising in sports casting:
Casting extras
Casting commercials
Casting for film and television
StarNow online casting directory for Reality TV casting calls, Dance & Music jobs, Photographers wanted - acting jobs, model auditions, music, dance, modelling, entertainers and performers casting calls and talent directories