Contact:
David Russell Smith
Address
37 Crusader Road,
Bournemouth,
BH11 9TY

About Aztec Video
High definition video production filming, editing and creative special effects.

* All purposes - Documentary / corporate / promotional / music.
* All formats - DVD / multimedia / tape.
* Free advisory service to discuss needs.

Our Producer, David Russell Smith, has 23 years experience of video. This is complemented by many years business experience. These skill-sets enable Aztec to:
quickly establish good rapport and understand client needs.
pro-actively help clients portray themselves and their products and services with good style, being mind-full of various marketing techniques
This results in Video Film Production with greater impact.
Much is done prior to filming, by getting to know the clients business, target market, purpose of video media etc. This enables contribution to the clients own ideas, including content and style, which can make all the difference in staying one step ahead of the competition.
This intangible inspiration and passion for each production cannot be conveyed via a website, so please call us for a brief chat and we will prove this to you!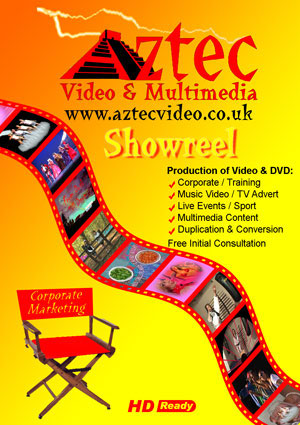 Corporate Video Production Company Sponsors

Filming & Editing
From script to duplication
Events & Promotional Videos
Video for corporate, business and public sectors
Rich content specialists
Worldwide experienced crew
020 33724419

The Theory is a film and video production company that creates corporate films, brand commercials and direct response TV adverts. We're HDSLR specialists. We make stuff you want to watch. We do it at a great price.

We are a creative film production company based in London. We also create photo-real visual effects that bring products and environments to life.