Address
London & Manchester,
UK

About Dave Judge
Dave is a highly qualified, experienced and accomplished Stunt co-ordinator and performer credited world wide for his work on film & television projects, commercials and pop promos. He can provide an extensive and professional yet very competative service and if if required; a one-stop package for your action sequence requirements.
As an Honors Degree Engineering Graduate and licensed rigger, Dave can additionally take responsibility for the design and construction of stunt effects and equipment. All vehicles and ramp preparations, flying and wire effects, nitrogen rams and cannons, etc....etc plus most other rigging and safety requirements.
Dave is Health & Safety qualified and an associate member of the International Institute of Risk and Safety Management and provides thorough, proffessional Risk Assessments with ALL work undertaken.
Fights, crashes and high falls. Precision driving all water work and fire balls.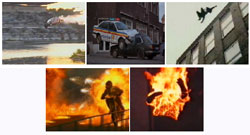 Stunt Coordinators & Performers Sponsors

Marc Cass STUNT COORDINATOR (LONDON) MOBILE: 07860 77 69 78 25 YEARS EXPERIENCE - BRITISH STUNT REGISTERED APPROVED CONTRACTOR. INSURANCE APPROVED STUNT COORDINATOR H.S.E RISK ASSESSMENTS. RECENT CREDITS: TOP BOY 3 (2019) BRAVE NEW WORLD (2019). ALL STUNT EQUIPMENT PROVIDED.

With over 40 years of experience as a Stunt Co-ordinator/Performer, I have covered a very wide range of skills and experience in the business.

Delivering creative stunt, action and fight sequences to suit all budget levels, where producers get as much 'bang for their buck' as possible, but safety is never compromised.