Company:
Chapel Studios London (Recording Studios London)
Address
13 Crescent Gardens,
London,
SW19 8AJ,
UK

About Chapel Studios London (Recording Studios London)
The Chapel Studios recording Studio London is a music recording studio specialising in recording, production, mixing, voice overs and mastering. Its creative and professional recording environment boasts a range of state of the art gear coupled with a relaxed setting located in Wimbledon, South West London, UK. The Chapel Studios London Recording Studio is bespoke built and is a highly flexible studio able to cater for a whole host of recording, mixing, engineering and mastering requirements.
The Chapel Studios London Recording Studio is one of only four SSL Dualities commercially available in the UK.What Makes Us The Best?
Client focus - unfaltering attention to your project.
Efficient and creative workflow
Friendly staff
48 channels of quality SSL analogue sound
Day-Lit Studio with Air-Conditioning
Our services include production, engineering, mixing and mastering commercial release hits; voice-overs and audio to visual overdubbing, song-writing as well as music composition for TV adverts and scores for Hollywood films. Our clients are many and varied such as record companies, artists, music producers or record producers, songwriters, session engineers, mix engineers, mastering engineers, session musicians, session singers, voice directors or voice-over artistes. New clients are always welcome.
We are as open to solo artists and bands as we are to voice over and mastering projects.
So come down to Wimbledon Park in South West London Recording Studio and hear for yourself!
This London recording studio gives you superbly designed acoustics for amazing quality recordings, as well as an extremely accurate mixing environment. The Chapel Studios gives you a stunning studio recording for your voice-over producer, for your record producer or simply for you and your project.
Twitter Feed

Facebook Feed
Reviews for
Chapel Studios London (Recording Studios London)
Chapel Studios London (Recording Studios London)

I play bass for a number of different artists and I always suggest they come to The Chapel for their studio time. I always feel comfortable and Steve even has a good selection of guitars and a beautiful sounding drumkit so I don't even need to bring my own bass. Whether its been for a rock act, pop star or unsigned RnB singer, I have always left a session at the Chapel with a massive smile on my face :).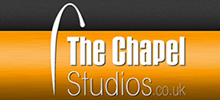 5

out of

5
based on
1
ratings.
user reviews.
Find Chapel Studios London (Recording Studios London) in
Location of Chapel Studios London (Recording Studios London)
Recording Studios Sponsors

We offer recording for:
Commercial voiceovers
TV/Film overdubbing
Animation / Gaming voiceover
Narrations
Radio drama
Audio commentary for DVD
Audio book recording
Sound design

Production
Recording
Mixing
Mastering
Voice Overs
Recording Gifts
Location Recording
Rehersal Space