Company:
London Film School
Contact:
Veronique Fricke
Address
24 Shelton Street,
London,
WC2H 9UB,
England

About London Film School
For over 60 years London Film School (LFS) has been the place for emerging creative talent to hone their craft, refine their voice and engage directly with the vibrant screen industries. With a student cohort from every corner of the globe, LFS has always been a cultural hub where new voices, experiences and perspectives rub shoulders with tradition and history. The story of film has played out here at Shelton Street – the pull of celluloid, alongside the push of the new and the emergence of a digital world. Here, we take both seriously to celebrate a tradition of innovation.
Our graduates have gone on to make substantial contributions to world cinema and global storytelling on an increasing playing field. Outside of cinema we see our storytellers and our filmmakers work in television and across new platforms. As film and television converge and new platforms emerge, our graduates will confidently explore how to adapt their skills and expertise in filmmaking to tell compelling stories in any medium, on any platform, in any place.
Facilities
Our London Film School building was previously a warehouse, and has a rough workshop atmosphere which can be exciting, but is not academic and certainly not luxurious. We offer guided tours around the school on Thursday afternoons throughout the term which includes talking to recent graduates. Facilities at LFS include:
Studios
Cinemas
Camera Department
Design Studio
Editing Suites
Sound Suites
Production Office
VLE
Library
Long Acre Building
Clubs and Societies
Full-Time StudyMA Filmmaking
An intensive two-year course in the heart of London, the MA Filmmaking course trains to a professional level in a full range of filmmaking skills. Students leave with a portfolio of directing, cinematography, editing, producing and sound credits on at least 10 films - usually many more. The school produces around 180 films each year on this particular programme and last year these screened at over 180 festivals, winning many prizes, including the Cannes Palme d'Or for Best Short Film, the most prestigious festival accolade.
MA Screenwriting
This one-year course, accredited by Creative Skillset, is aimed at developing screenwriting skills in the context of a filmmaking community where writing is an everyday practice and a collaborative process involving actors, directors, musicians, editors and producers.
MA International Film Business
The MA International Film Business unites London Film School, the world's key postgraduate filmmaking school, with the University of Exeter's Film department and Business School. The marriage brings together unique film production and market expertise and exceptional research and teaching on film culture and history. This MA combines high level teaching skills with a unique practitioner-driven industry access program, providing students with the key business tools and contacts needed to build a career in film.
PhD Film by Practice
The University of Exeter College of Humanities is able to offer doctoral studentships to fund doctoral study in Film by Practice, as a joint degree with London Film School. These doctoral studentships are tenable for up to three years and cover full tuition fees and a maintenance allowance. 
Workshops
LFS Workshops are a range of evening, weekend and short professional development courses, with the emphasis on a practical, hands-on, intensive learning experience. All courses are developed by leading practitioners and offer an opportunity to study at a professional level, right in the centre of London's Covent Garden. 
Twitter Feed

Facebook Feed
Team
| | | | |
| --- | --- | --- | --- |
| Name | Role | Email | Telephone |
| Marketing | Marketing Dept | | 02078369642 |
London Film School In The News
Company News
06/03/2018
LFS GRADUATE, SOPHIE MCVEIGH, SELECTED FOR CANNESERIES
---

This week is the kick off of Canneseries, a five-week long immersive screenwriting residency. The residency, which has been developed by UCA in association with Serial Eyes (DFFB, Berlin) has selected eight talented international authors to develop projects over the course of the programme. Sophie McVeigh, a 2017 MA Screenwriting graduate has been selected for the first intake of this prestigious programme. When asked for comment, Sophie stated:
I think the Canneseries Institute is a fantastic opportunity for new writers and I'm amazed and overjoyed to have been accepted onto the program! The chance to spend nearly six weeks in the south of France developing a TV series with writers from all over the world, to be mentored by such experienced professionals, to have the chance to work so closely with Canal+ and to be a part of the first ever Canneseries Festival is like a dream come true for me. It's great that TV series are being recognised as an art form alongside film, and I'm very excited to be a part of the festival's inaugural year.
Sophie will be working on a project that has been pitched to the judges on the Canneseries and Canal+ panel. The hope is that some of the projects may go into development at Canal+. London Film School is a partner school of Canneseries. Participants that take part in Canneseries and the Cannes International Series Festival will attend screenings of new series, numerous master classes and other events. They will also be able to participate in 'In Development', the Series Creation Forum proposed by Canneseries and MIPTV.
Best of luck to Sophie and all the participants of Canneseries. London Film School is proud to be a partner school of the this new programme.
05/03/2018
'A FANTASTIC WOMAN', SCREENPLAY WRITTEN BY GRADUATE, WINS BEST FOREIGN FILM AT ACADEMY AWARDS
---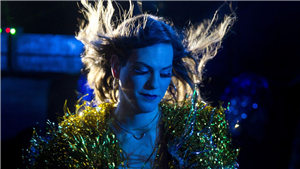 Last night 5pm PST the 90th Academy Awards began at the Dolby Theatre in Los Angeles, California. Gonzalo Maza, an MA Screenwriting alumnus of London Film School, was in attendance for 'Una Mujer Fantástica's nomination for Best Foreign Language Film. The film, nominated for the Golden Globes in the same category, had already won the Silver Bear for Best Screenplay at the 2017 Berlinale Film Festival, Best Foreign Language Film at the Goya Awards and Best Foreign Language Film at the Independent Spirit Awards.
'Una Mujer Fantástica', otherwise known as 'A Fantastic Woman', follows Marina Vidal, a trans-woman grieving the death of her partner. The film took home the Oscar for Best Foreign Language Film over Ruben Östlund's Palme d'Or winner, The Square and Ildikó Enyedi's Golden Bear winner, On Body and Soul.
Maza, the screenwriter behind the film, graduated from London Film School's 2017 MA Screenwriting course. He has previously collaborated on 2013's Gloria with Una Mujer Fantástica's director Sebastián Lelio. Una Mujer Fantástica's is from the producers of 'Jackie' and 'Toni Erdmann'.
The Guardian's Peter Bradshaw has given 'Una Mujer Fantástica' a five star review and described it as, "a sublime study in the exalted ordeal of grief." 'Una Mujer Fantástica' is currently being screened across London.
Another congratulations to Gonzalo Maza and the whole 'Una Mujer Fantástica' team!
About UNA MUJER FANTÁSTICA (2017)
Director: Sebástian Lelio
Writers: Sebástian Lelio, Gonzalo Maza
Stars: Daniela Vega, Francisco Reyes
Language: Spanish
Runtime: 104 minutes
26/02/2018
TWO LFS GRADUATES TAKE HOME TOP PRIZES AT BERLINALE
---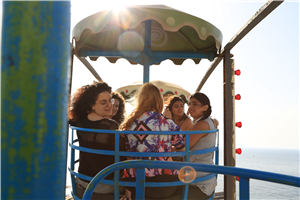 The final curtain has closed on the Berlinale International Film Festival this year and two LFS graduates, Lara Zeidan and Marcello Martinessi, have walked away with top prizes.
Zeidan, whose graduate short film, 'Three Centimetres' was screened as part of the generation 14plus selection won the Teddy Award for Best Short Film. The jury released the following statement about their decision:
"Lebanese female film director Lara Zeidan makes a sensitive and intimate portrait of four young female friends on a Ferris Wheel in Beirut. We share in their emotional ride of sexual understanding, as the conversation turns from a jovial discussion of virginity, to a nervous outing of homosexuality. As we listen, we realise these young women are only just beginning to explore the many layers of their own and others' identities. We are privy to a crucial life episode in which a queer individual must claim and defend her right to exist. Lara Zeidan captures this delicate moment in adolescence with subtle yet tender performances from her cast."
Martinessi's feature 'The Heiresses' which was described by Variety as a "character study with shrewd commentary on class, desire, and the lingering privileges of Paraguay's elite" scooped up the Silver Bear Alfred Bauer Prize. Ana Brun, the film's lead actress, also won the Silver Bear for Best Actress for her performance in the film. Additionally, the double Silver Bear winner has been sold by Luxbox to major distributors in Italy, France, and the U.K.
Congratulations to the winners and all LFS alumni who attended the festival.
21/02/2018
LFS GRADUATE CARLA SIMÓN CHOSEN FOR TORINOFILMLAB
---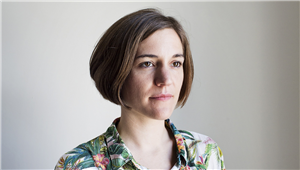 Carla Simón has been selected by the TorinoFilmLab for their 2018 ScriptLab. The programme was founded in 2008 and since its inception TorionoFilmLab has supported over fifty projects. In 2016, seven TorinoFilmLab supported films were selected by Cannes Film Festival. Five of which went onto to win major prizes.
Simón, an MA Filmmaking alumna, was awarded the prestigious Obra Social "la Caixa" scholarship in 2011 and moved to the UK to study at London Film School. Here, she directed her short films 'Born Positive', 'Lipstick' and 'Las Pequeñas Cosas', all selected to several international film festivals. 'Estiu 1993', her debut film premiered at the Berlinale 2017 where it won the GWFF Best First Feature Award and the Generation Kplus Grand Prix Jury Award.
Previously, LFS alumni Marcello Martinessi and Babak Jalali attended the TorinoFilmLab. Both filmmakers attended Berlinale 2018 with feature films this month.
Congratulations and best of luck to Carla!
About TORINOFILMLAB
TorinoFilmLab is based in Turin, Italy and supports filmmakers working on their first or second feature film. TFL's four main pillars are training, development, funding, and distribution.
20/02/2017
MAJOR AWARDS FOR LFS TALENT AT 67TH BERLINALE
---
Congratulations to our LFS staff, students and alumni who presented work at the 67th Berlinale. These were London Film School films through and through - brave, daring, surprising and tackling complex issues, and each made an impact.
The judges awarded LFS talent with 4 major awards this year at the Berlinale 2017:
GONZALO MAZA, LFS SCREENWRITING STUDENT | 'UNA MUJER FANTASTICA (A FANTASTIC WOMAN)' : SILVER BEAR FOR BEST SCREENPLAY, TEDDY AWARD - BEST FEATURE FILM 2017, INDEPENDENT JURIES, ECUMENICAL JURY, SPECIAL MENTION
RAFAEL KAPELINSKI, LFS ALUMNUS & TUTOR | 'BUTTERFLY KISSES' :GENERATION 14PLUS - CRYSTAL BEAR FOR BEST FILM
CARLA SIMON, LFS ALUMNA | 'ESTIU 1993 (SUMMER 1993)' : GRAND PRIX OF GENERATION KPLUS INTERNATIONAL JURY (ex aequo), GWFF BEST FIRST FEATURE
Rafael Kapelinski (term Tutor and alumnus), presented his debut feature, Butterfly Kisses, a brave film tackling a difficult subject, which critics and audiences found compelling and thought provoking. His film was awarded the Generation 14Plus CRYSTAL BEAR for BEST FILM.The jury had plenty of praise for BUTTERFLY KISSES: "The finely differentiated characterizations inspire profound empathy for the protagonists in the situations they face (…) We are captivated by the haunting intensity of this electrifying feature film debut."
Gonzalo Maza, current Screenwriting student, scooped two awards and a special mention for his work as co-writer of UNA MUJER FANTASTICA (A FANTASTIC WOMAN)' which proved to the the talk of the Berlinale. The film was awarded the SILVER BEAR for BEST SCREENPLAY, the TEDDY AWARD for BEST FEATURE FILM, and a SPECIAL MENTION from the INDEPENTDENT JURIES and the ECUMENICAL JURY.
The online reviews have been pouring in from The Hollywood Reporter to Variety, with a real palpable buzz at the Berlinale last week around the film. Maza commented on how the story for UNA MUJER FANTASTICA was created: "The whole process was a long trip: a long time of conversation and discussion. We developed many ideas and there's a moment when the idea of the main character to be the main woman popped up. For us, the film appeared then. " (sic) This is Maza's second time at the Berlinale, after the film GLORIA (2013) wowed audiences four years ago.
LFS Alumnus, Carla Simon presented her first feature, ESTIU 1993 (SUMMER 1993)'
In the GENERATION KPLUS section and was awarded GRAND PRIX OF GENERATION KPLUS INTERNATIONAL JURY (ex aequo) BEST FIRST FEATURE. The Berlinale Jury commented: 'Besides the outstanding performance of the young main actress the jury was also very impressed by the beautiful cinematography and sensual mise-en-scène!'
Congratulations to other LFS Alumni who presented new work at Berlinale this year.
Whilst the film HIWA, directed by Jacqueline Lentzou, had its world premiere at the festival and participated in the short film section of the Berlinale.
BUTTERFLY KISSES will be screened at LFS on the 8th March, followed by a Q&A with Rafaeal and hosted by Richard Kwietniowski. To join the Q&A, please RSVP here: http://lfs.org.uk/events/2801/qa-lfs-butterfly-kisses-rafael-kapelinski.
Reviews and Trailers:
You can watch the trailers for each film screended at the Berlinale below:
UNA MUJER FANTASTICA - https://youtu.be/LJcwcsRpPBE
BUTTERFLY KISSES - https://youtu.be/pMEcWVqIzZA
ESTIU 1993 - https://vimeo.com/203246929
HIWA - https://vimeo.com/198548348
Find London Film School in
Location of London Film School

Avid Media Composer
QC and Post Workflow
File based techniologies
Advanced Files & Compression
IT for post, Broadcast & Post QC

Award Winning Cameraman
Documentary
Wildlife
Underwater
Aerials
Sound Sync
Presenter led Programming
Science & Features
Wildlife & underwater video & edit courses.

The London Film School remains one of only a few remaining independent creative specialist conservatoires in the world. We continue working hard to remain a leading centre for film education.