Address
Parkmore,
Wicklow,
Ireland

About John Fay
John Fay
is a lighting Cameraman with over 16 years' experience shooting programmes and commercials for Irish and International television.
John Fay is a Member of The Guild of Television Cameramen, SIPTU Film & Entertainment branch IFTA.
About Us
John Fay has experience on a wide range of programme styles and formats.
These are just some of his credits.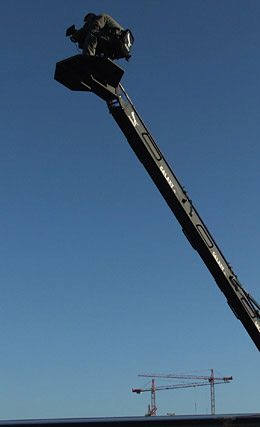 Drama:
Fair City (RTE Drama)
The Man of Many Hats(RTE Young people's Drama)
The Last Leaf (short film)
Salesman of the Century (short film)
Documentary:
The Street Where I Live-Tralee-RTE Doc Unit
The Johnny McEvoy Story-RTE-Mount Venus Productions
Bing's Favourite Irishman - RTE Documentary on George O'Reilly, the fan who brought Bing Crosbie to Ireland.
Director, Karen McGrath
Power Pictures - for TG4 4 x 30
Observational documentary of a year in the life of Inis Meain.
Director, Paul Power
21st Century Child - Animo Television for RTE, a 5 year ob doc following the development of 8 babies
Prime Time Investigates - IFTA winning one hour special on Juvenile crime for RTE
Producer, Eddie Doyle
The Last Lap - 1 x 60 for BBC NI, Award Winning documentary on World Champion road racer, Joey Dunlop. Director, Karen McGrath
Commercial:
Promos for RTE 1
2 commercials for the HSA on Farm safety
Commercials Eddie Rockets and RTE 2FM Radio, Proper Productions
Commercial for CONSOLE a suicide help line for Kairos Communications,
Director Seamus Calligy
Television programmes:


Six Nations inserts with Keith Woods for BBC Sport
I'm an Adult Get Me Out of Here - Filmed with Presenter John Maguire.
House Hunters in the Sun - Coco Productions for RTE.
Director Peter Murphy
Show me the Money - 30 x 8min lifestyle series for RTE IFTA prize winner.
Director Rachel Moriarty


Equipment:


HDW790p HDCAM High Definition Camcorder
DVW700wsp Digital Betacam camcorder
Full lighting kit with soft boxes , flags and reflectors
Matte box and good selection of filters
7" HD and SD monitor
Canon 5D MK 11
Contact John Fay
The Last Leaf
This was a short film from Weir Productions.
See John's Showcase
here
.
Lighting Cameraman Sponsors
Lighting - cameraman - Midlands - UK
Camera crew - Worcestershire - England - UK
Broadcast - cameraman - Birmingham - UK
25 yrs exp BBC ITV C4 SC4
call Paul on (0)1562777186 or Mobile (0)7836523754

Experienced Broadcast Lighting cameraman
Own RED / P2 varicam / HD & XD Cam shooting kits
Jimmy jib and Steadicam owner operator
Crews and equipment hire
London and Bristol bases

CAMERA CREW HIRE. 4K & HD:
Own Sony FS-7 XDCAM Full Camera kit
Polecam 4K/HD (Camera Crane) Owner Operator
Broadcast Crewing for Northern England/Scotland
Latest DJI Ronin Camera stabiliser. 4K or HD
Call Tom Paterson on 07973 223302