Address
Pontygwindy Industrial Estate,
Atlantic Trading Estate,
Caerphilly,
Vale of Glamorgan Wales, Hayes Rd.,
CF83 3HU,
Wales UK

About Bay TV Ltd
Bay TV specialises in providing large screen displays at public events, sporting events, concerts, festivals, fun runs and shows.
Discover how the screen adds excitement to the event and is ready to operate in 15 minutes. Your crowd attendance and participation will increase along with your revenue. Catch all the action at sporting events or concerts and replay highlights, or put advertising and promotions for upcoming activities onto the screen, your audience will never miss an event. Get your message out anywhere anytime!
We can provide a full service including all equipment and crew, or if you prefer you can simply hire a screen with an operator, leaving you the freedom to provide your own production.
We also hire out plasma screens, projectors, cameras and other video equipment.
If you require any more info please don't hesitate to call us. And remember, our rates are VERY competitive and negotiable!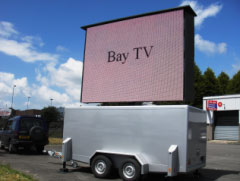 Outside broadcast Sponsors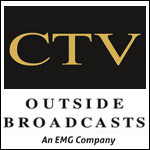 Outside Broadcast London South of England
Outside Broadcasting & Satellite Services
OB Vehicles
Contact us 020 8453 8989

Independent Outside Broadcast Facilities Company in the UK and amongst the largest in Europe. Mobile television OB trucks vans unit providing outside broadcast facilities with recording, live feeds and webcasts in digital and widescreen formats
Broadcast Services
Outside Broadcast
Satellite Services
Hi Def OB
Outside Broadcast & Satellite Services