Company:
CTV Outside Broadcasts Ltd
Contact:
Adam Berger (General Manager)
Address
3 The Merlin Centre,
Lancaster Road,
High Wycombe,
HP12 3QL,
England

About CTV Outside Broadcasts Ltd
Since 1986, CTV has developed into one of the largest and well-respected independent OB Companies in Europe. We maintain a refreshing and dynamic approach to Outside Broadcasts which is supported by our long standing client base of blue chip broadcasters and high profile production companies.

CTV is built upon a highly motivated team of television professionals who have established a wealth of experience and know-how over many decades. With probably the healthiest variety of work compared to our competitors, and with our all HD OB fleet, we have unrivalled expertise in delivering the very best for every programme genre.



CTV is a member of the Euro Media Group, and with our European OB Partners in Belgium, France, Germany, Italy and The Netherlands, we can efficiently deliver our expertise in outside broadcasting anywhere in continental Europe – and beyond.

Find CTV Outside Broadcasts Ltd in
Location of CTV Outside Broadcasts Ltd
Outside Broadcast & Satellite Services Sponsors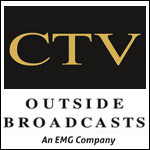 Outside Broadcast & Satellite Services
CTV has developed into one of the largest and well-respected independent OB Companies in Europe
HD OB fleet
Contact us 020 8453 8989

Links Broadcast HD & SD Facilities Include:
SNG Services
Satellite Downlinks
Microwave Links
Vision Mixing & Editing
Video Conferencing
and much more