Company:
root6, a Jigsaw24 company
Address
8 Golden Square,
London,
W1F 9HY,
UK

About root6, a Jigsaw24 company
Join the conversation with Jigsaw24 and root6
About root6 and Jigsaw24
Established more than ten years ago, Soho-based root6 is the most experienced and committed supplier of technology to the UK broadcast, film and post-production communities. In 2017, they joined the family of Jigsaw24 – a creative solutions and services provider of 25 years standing and the UK's largest B2B Apple and Adobe provider, with a stockholding of over £6 million and nationwide support coverage.
Edit Suites for Channel 5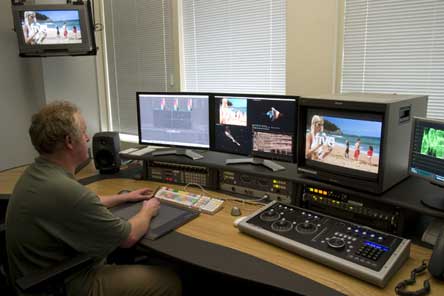 Complementing Jigsaw24's logistics, stockholding and creative expertise are root6's systems integration and installation division, a technical customer support service in which more than a third of their staff are employed, and a product development arm, ROOT6 Technology.
Both teams are characterised by a high level of technical competence. Many of the team have worked in technical and creative areas of the industry and understand the priorities and processes. As the business evolves and embraces the world of IT alongside traditional engineering, knowledge and experience are paramount.
10G Ethernet installation
at MPC
Core Switch at MPC
The root6
systems integration
division specifies, designs, project manages and commissions technical installations so nothing is left to chance. Clients include Channel 5, MTV, The Moving Picture Company, The VTR Group, The Farm, Molinare and London South Bank University.
Both Jigsaw24and root6 technical teams are accredited by major vendors, and can offer
customer support
on everything from individual products to systems and facility-wide installations, and many facilities large and small have come to rely on a service which can be tailored to suit individual requirements. Mission-critical editorial support for major feature films and reality TV series has been contracted for such titles as 'Casino Royale' and 'Big Brother.'
ROOT6 Technology
, the product development arm of the company, develops innovative productivity solutions including the extremely popular universal encoding and management platform, ContentAgent.
Meet the team at 8 Golden Square
You can meet the root6 and Jigsaw24 teams at our customer experience and service centre in Soho, at 8 Golden Square. As well as hosting
industry-focused events featuring leading vendors, innovative practitioners and the latest technology
, our Golden Square office boasts the Steampunk demo room, which features, among other things, a 3D-capable, Dolby-approved Avid S6 setup and a full 4K DaVinci Resolve workstation.
Find root6, a Jigsaw24 company in
Location of root6, a Jigsaw24 company
Systems Integrator Sponsors

Consultancy
Project Management
Design & Engineering
Installation
Commissioning
Technical Training
After Sales Support

Wire Broadcast Ltd provides high-quality technical installations to the television and media world. As well as working with some of the most successful post-production studios in London's Soho, Wire has undertaken a number of projects outside the UK for international businesses.