Address
4th Floor, South Central Building,
11 Peter Street,
Manchester,
North West,
M2 5QR,
England UK

About 422.TV
422 is one of the premier post production and VFX houses in the UK where talent and creativity lies at the heart of everything we do.
We offer the most comprehensive and up-to-date range of post production facilities in the North, supported by a substantial network infrastructure which provides an end to end, tapeless workflow environment in HD, SD and RED.
We pride ourselves in delivering exceptional project management and creative solutions for television, advertising and film, set in a professional and relaxed environment in Manchester's vibrant city centre.
Our services include on and off line editing, sound design, high end finishing and grading, CGI, visual effects plus motion graphics.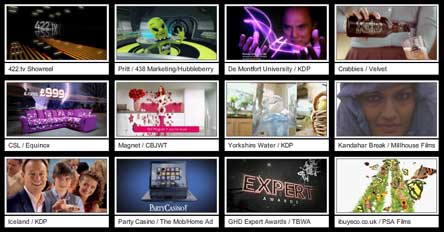 Post Production Facilities Sponsors

Uniquely creative production, post production, crews, graphics, 3D, design, DVD authoring, webcasting and streaming, all provided by our award winning London based team. Talk to us on 020 7916 6996

Loco is an independent creative house, providing moving imagery for the advertising, digital, film and broadcast industries. We work together to help our clients harness the essence of their idea and take it through every stage of production, from inception to completion and delivery.