BROADCAST FILM AND VIDEO DIRECTORY
Company:
Miniature Broadcast Cameras ltd
Address
53 Felstead Road,
Loughton,
IG10 3BB,
England

About Miniature Broadcast Cameras ltd
Camera Overview
The RubiCam is a very small HD/SD Camera with a separate head and CCU. The Camera has a single 1/3" CMOS sensor which produces approximately 2M pixels. The Camera head and the CCU can be connected together by a 10X metre, 20X metre or 30X metre camera cable (6mm) as used by Toshiba Cameras, equally the Toshiba AC adaptor can also be used to power the CCU.
The RubiCam camera produces a 16:9 HD picture of 1080i lines or 720p and camera output of component Y/Pb/Pr and HD-SDI. It can also be switched to SD with a 4:3 aspect ratio picture and output SDI, Y/C and VBS.
The Camera is a 12 Volt DC system and power consumption is approximately 20 Watts. The RubiCam is a very small camera and the head measures approximately 2"X2"X3" (5X5X8cms) and weighs approximately 3/4 lb (400gms).
The RCP is linked to the CCU by RS232 cable with a baud rate of 38,400 and can be operated at a considerable distance away from the OB truck or Vision Control area. The RCP has been designed to work in an OCP position in a scanner or vision control area for studios. Additionally the RCP can be physically coupled to a miniature Pan & Tilt head to give a complete remote control facility. (Optional Extra)
As an optional extra, the CCU can have a Full Duplex Mode Fibre Port which can transport HD-SDI with embedded Audio. Therefore, for remote control camera work it is possible to send Audio/Data down the line together with the picture and then receive return video and talkback if required, through a SMPTE Hybrid Optical Cable interface.
The RubiCam HD/SD Camera is recommended for Studio, Outside Broadcast or indeed any Mobile Television production work.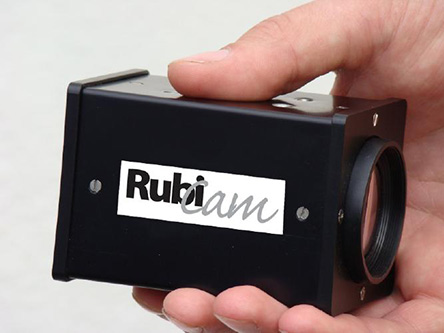 RubiCam Remote Control Panel
The RubiCam Remote Control Panel (RCP) controls the electronic parameters of the camera together with the Zoom, Focus and Iris controls. The key to the individual control touch buttons are shown on the diagram and key directory (As shown in the instruction manual). The RCP is connected to the Camera Control Unit (CCU) via a RS232 data cable which for convenience uses a standard 3X pin XLR audio cable and may be up 1000 feet long. There is also an "On Air" indicator and preview facility button which is connected via a miniature 4X pin Lemo socket.
RubiCam has eight different switchable modes together with scene files.
The Zoom, Focus and Iris controls are at the bottom section of the RCP and offer operational control of the RubiCam in the normal way. The RCP can be easily slotted into an OCP position in an OB Vehicle or Studio Vision Control Area.
RubiCam HD Camera Control Unit
The RubiCam Camera Control Unit (CCU) connects to the RubiCam camera head by existing Toshiba (6mm) Camera cable up to a maximum of 30X Metres in length with appropriate length compensation. The CCU is powered by 12 Volts DC which can be supplied by the Toshiba AC Adaptor or any suitable DC source. The picture produced is 16:9 and has HD and SD outputs. The HD outputs of the CCU include HD-SDI, Y/Pb/Pr and the SD outputs include SDI, Y/C and VBS.
The CCU is fitted with Full Duplex Fibre Port which can send Audio/ Data embedded in the HD-SDI signal down the line from the CCU's two "Audio In" miniature Lemo 3X pin sockets.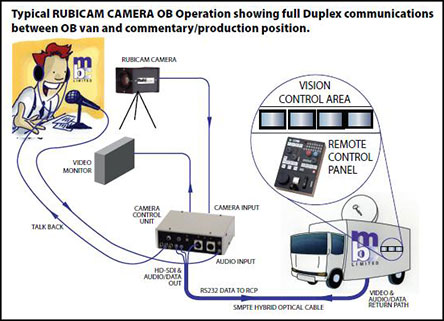 Products / Services / Credits
RubiCam 4K (UHD) Camera
Rubi-Radio RF Links
RubiFibre Tele Links & Power Solutions
RubiVision 4K field Monitors
HD Camera Remote Control Panels
RCP / OCP
Broadcast Design & Manufacturing Facility
Team
| | | | |
| --- | --- | --- | --- |
| Name | Role | Email | Telephone |
| Neil Davies | Technical Director | | 0208 500 4385 |
Find Miniature Broadcast Cameras ltd in
Location of Miniature Broadcast Cameras ltd

We know we put a lot of emphasis on maintenance and preparation of our equipment by qualified personnel. We have a boat load of freelance people we can call on and can arrange crews of the size and experience your production requires.

Miniature Broadcast Cameras has launched RubiCam, a miniature HD/SD broadcast camera based in England UK. Its extensive features, that can include a full duplex video and audio link, mean RubiCam has many applications, in remote camera positions, OB commentaries and studio productions.
REMOTE HEADS – for Concerts & TV & Commercials
CAMERA HIRE - PMW-F3 & C300 & BMCC & PMW-EX3
RECORDERS - PIX240s & Hyperdeck Studio Pros
TECH CREW - Operators & assistants & DITs