Broadcast News
29/04/2009
Gekko's Kedo Studio Lighting Head Wins Multiple Awards For Innovation At NAB 2009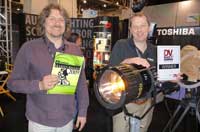 Gekko has announced that its new kedo, the world's first focusable single-source multi-colour light formulated for image capture, has won two awards for innovation.
Both were presented by US-based television industry publications at the National Association of Broadcasters 2009 Convention in Las Vegas in April. TV Technology bestowed its Mario Award and DV Magazine its Black Diamond Award/
David Amphlett, Managing Director, said: "The Gekko design team is very proud to have been recognised again as we continue to innovate products for the film and television industry. Our new kedo luminaire gives lighting directors and camera crews the freedom to obtain focusable high-strength light in millions of colours from a single source.
"It eliminates the need for inefficient colour filters. kedo uses our new kleer-colour light engine, a single array high-power light-emitting diode which can be tuned under software control to a wide range of different colour temperatures."
A focusable spotlight equivalent in output to a 1 kW Fresnel, Gekko's kedo delivers precise colour rendering across a wide range of operating temperatures and illumination levels. As well as primary and intermediate colours, kedo can accurately emulate a high quality tungsten reference source. It can be switched quickly and easily to produce 2900K, 3200K, 4300K, 5600K and 6500K as well as a wide range of colour gels.
Gekko Technology designs and manufactures LED lighting products for the global film, television and photographic industry. Their products include kisslite, lenslite, kicklite and george. Credits include Casino Royale, Quantum of Solace, Death Defying Acts, Mamma Mia, Golden Compass and television drama including Waking the Dead, New Tricks and The Commander.
See Gekko Technology on the PRG stand at Cine Gear Expo 2009at Hollywood between June 4 and 6.
Further information is available at:
www.gekkotechnology.com
.
(KMcA/BMcC)
Top Related Stories
Click here for the latest broadcast news stories.