Broadcast News
29/04/2009
Anton/Bauer Solar Charger Wins Vidy And Black Diamond Awards From NAB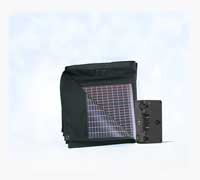 Anton/Bauer, a brand of The Vitec Group, and the world's innovator and premier provider of batteries, chargers, lighting and other mobile power systems for the professional video, broadcast and film industries, has announced that its new Solar Charger battery charging system won two awards at this year's NAB 2009 show: the Best of Show Vidy Award and the 2009 Black Diamond Award from the editors of NewBay Media's Videography and DV magazines respectively.
The Solar Charger is designed to efficiently charge any battery in the Anton/Bauer product line through solar cell technology. Weighing a half pound (24 kg), the charger case connects to a 1.76 pound (.80 kg), soft, foldable panel (59 inches x 43 inches; 150 x 109 cm) of solar cells capable of bringing a battery to full charge nearly as quickly as those chargers connected to AC mains.
Shin Minowa, VP Marketing and Business Development, Anton/Bauer, said: "We couldn't be more excited that our Solar Charger earned these two prestigious awards. The Solar Charger is a very special product and we are thrilled by the amount of excitement and attention it received during NAB."
Michael Accardi, President of Anton/Bauer, said: "The Solar Charger addresses the needs of anyone dealing with remote location video capture. Documentary, ENG, archiving and training applications will benefit from greater flexibility when choosing locations, as the charger is no longer tethered to an AC source. Also, the range of capture opportunities has been dramatically increased, enhancing production and creative options. The charger is also an eco-friendly product, fitting into today's energy efficient consciousness."
The Solar Charger is capable of charging the popular Anton/Bauer Dionic 160 battery in four hours when full sunlight is available. The Dionic 90 battery reaches full charge at 3.5 hours, while the HyTRON 140 reaches peak performance in three hours. ProPac charges in 1.5 hours, the HyTRON 50 in two hours and the Trimpac in one hour. The Anton/Bauer Solar Charger is expected to ship in Q4.
Further information is available at:
www.antonbauer.com
.
(KMcA/BMcC)
Top Related Stories
Click here for the latest broadcast news stories.