Broadcast News
23/09/2014
Anton/Bauer Demos Digital Battery And Performance Charger Series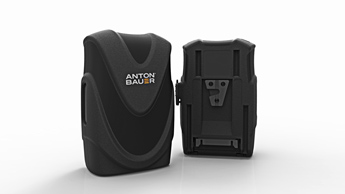 Anton/Bauer demoed its new Digital Battery Series and Performance Charger Series at IBC2014.
The batteries and chargers are available in both Anton/Bauer's signature Gold Mount and in V-Mount.
The new Digital Battery Series meets the needs of 4K camera set-ups and other digital cameras. It features a 'double skinned' architecture in which the cells are individually contained in an impact-resistant and flame-retardant plastic honeycomb, with a 2mm air gap between them.
The entire cell pack is suspended within the impact resistant outer case, maintaining a 5mm air gap around it to prevent crushing and accidental penetration.
The battery contains a proprietary digital filter that increases run-time and lengthens life cycle, eliminating the negative effects incurred when running digital technology with traditional battery circuitry. It also features constant calibration to deliver an accurate power status and features a new fuel gauge.
When attached to a load, such as a camera or a light, it will report the remaining run-time in hours and minutes, allowing the user to track usage. If the load varies, the run-time will update accordingly.
The series will include three battery sizes - 90 Wh, 150 Wh, and 190 Wh.
The Performance Charger Series supports the Digital Battery Series and features a new charging algorithm for multi-chemistry, simultaneous charging. Four batteries can be charged at a time. Software monitors the charging process and discharge curves to ensure each battery is charged to its peak performance
The batteries can be removed from the charger, enabling smooth operation in the field. The Performance Charger series automatically detects which battery has the strongest charge and prioritises it, ensuring a fully charged battery is always available in the shortest amount of time possible. They will be available in Dual and Quad options for both the Gold Mount and V-Mount Digital Batteries.
"This is the most exciting thing that's happened to batteries for our industry in over 30 years," says Graham Sharp, Senior Vice President of Products for Vitec Videocom. "We're very pleased to be debuting battery and charger systems that were truly conceived to power the digital age and deliver a new level in safety. The Digital Battery Series is uniquely optimised for today's cameras, as well as all of the auxiliary equipment now being powered around a camera, and the Performance Charger series is both the 'greenest' and most efficient charger on the market. At Anton/Bauer, we pride ourselves on not only delivering the highest levels of quality and performance, but of safety as well. These batteries were extensively tested to meet the most demanding conditions and are specially engineered to encompass numerous safety features."
The Digital Battery Series and Performance Charger Series will be available to the EMEA marketplace in Q4 2014 / Q1 2015.
www.antonbauer.com
(IT/CD)
Top Related Stories
Click here for the latest broadcast news stories.