Broadcast News
27/01/2009
Concrete Sees The Light With Channel 4's New History Of Christianity Series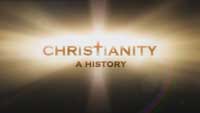 Concrete was approached by Pioneer Productions to design and create a logo for a new series of eight episodes for Channel 4 titled: 'Christianity: A History'.
One of the programme's directors, David Wilson recommended Concrete to Pioneer, after creating previous titles for 'Bible Revolutions'.
The Series Producer as well as a Director, was David Batty at Pioneer and Kirstin Dryburgh was the Production Manager on the project. The other Directors working on the programme were James Buchanan, Simon Chu, Dimitri Collingridge and David Wilson.
Concrete's brief was to create an animated title logo to appear at the beginning of each episode. The series is made up of eight episodes with eight different presenters from a wide range of backgrounds and beliefs. Each film will be a unique take on a crucial moment of event in Christian history and will examine how this history has impacted the modern world, presented by well known figures such as Howard Jacobson, Michael Portillo, Rageh Omer, Ann Widdecomb MP and Cherie Blair.
The cross, being the key symbol of Christianity was artistically formed within the logo. A cross shape comes into view with intense bright light burning and shining through. The word Christianity then becomes visible with the letter 'T' forming a cross to match the Christian theme which reveals the title of the programme, with striking effect, to Biblical proportions.
David Wilson stated: "I've known and worked with Concrete's Chris Jennings for many years and his stuff always has a great feel to it, not just clever, but heartfelt."
Concrete's Creative Director, Chris Jennings designed the storyboard and 3D logo, Digital Artist at Concrete, Matt Rowley created the storyboard and senior 3D Artist, Al Stiglic built the model in 3D which was then converted to a 3D object formatted file for Marcus Millichope to composit in Smoke.
Marcus then graded the piece and gave it a cinematic appeal, adding dramatic light effects to emphasis the epic feel. He stylishly enhanced the radiant light, as the cross shape emerges and then brightens to such brilliance that the screen is literally whitened with a blinding light effect.
The series is now airing on Channel 4 every Sunday at 7pm for the next six weeks.
Further information is available at:
www.concretepostproduction.com
.
(KMcA/BMcC)
Top Related Stories
Click here for the latest broadcast news stories.