Broadcast News
13/09/2023
StreamGuys To Demonstrate New Metadata Workflow With Xperi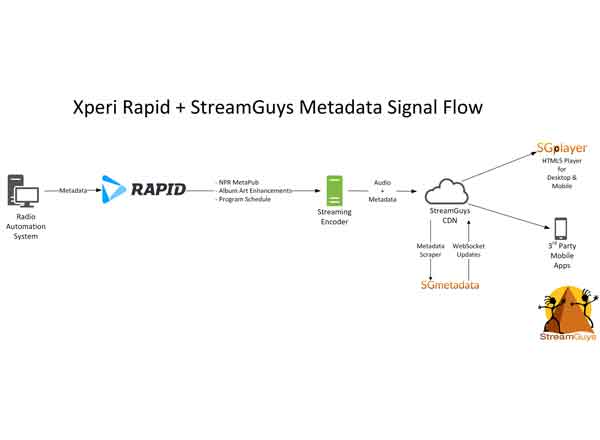 StreamGuys is to demonstrate a new metadata workflow with Xperi at IBC that will help radio broadcasters publish rich visual content alongside their online audio streams.
The demonstration will prove how broadcasters are assured consistency across their terrestrial and streaming platforms through the reliable integration of AIM Rapid and SGplayer, StreamGuys' HTML5 solution for consumer playback and content navigation. Both solutions support reliable metadata throughput and delivery to multiple consumer platforms.
AIM Rapid delivers visual content, notably album art, to radio stations alongside music track details, enhanced show information, news alerts and more. It can do so for FM, DAB+, and HD Radio™ delivery systems, as well as connected cars, websites and mobile platforms. Working with StreamGuys will ensure that the same album artwork is used across all delivery platforms, including websites and mobile platforms using SGplayer. StreamGuys' SGmetadata service for metadata management enables reliable handoff between the middleware (AIM Rapid) and playout (SGplayer, mobile app) workflow elements.
"Xperi has provided metadata solutions to broadcasters for more than 16 years," said Chris Gould, vice president for All in Media, the Xperi division that manages AIM Rapid. "We have a wealth of experience building middleware that is reliable, simple to use, and can also interface with a wide range of third-party systems such as SGplayer from StreamGuys. The interoperability between AIM Rapid and SGplayer ultimately means that the online audio consumer enjoys a richer experience with track metadata and artwork approved and delivered from the broadcaster, who will no longer worry about a lack of consistency across different audiences. Working with StreamGuys, we have made the process of delivering rich visual content to online platforms as simple and reliable as possible."
Eduardo Martinez, Vice President of Technology for StreamGuys, explains that the workflow originates within the playout automation system, which feeds Xperi Rapid. The Rapid middleware grabs additional metadata related to the track from Xperi's TiVo® music library, including album art, and feeds the streaming encoder. The SGmetadata service then pulls and converts the standards-based metadata for translation to SGplayer and mobile apps, which display the album art and other visual content alongside track information for the consumer.
"This is an intelligent and interoperable metadata workflow that solves a very common problem for the broadcaster," said Martinez. "Many broadcasters have immense song libraries with incomplete metadata, and Rapid intuitively steps in to provide that missing metadata as needed. Interoperability with SGmetadata extends these capabilities to the broadcaster's online audio streams, ensuring reliable transport through the CDN ecosystem and to the output for presentation on SGplayer. Working close with the Xperi team, we developed, tested and confirmed a solution within one week that is simple to setup, quick to deploy and consistent in service."
StreamGuys will demonstrate the interoperable workflow between AIM Rapid, SGmetadata and SGplayer at the ENCO stand (8.C73), where StreamGuys is an official IBC co-exhibitor. IBC begins Friday and runs through Monday, September 18.
www.streamguys.com
Top Related Stories
Click here for the latest broadcast news stories.