Broadcast News
13/05/2022
TAG Video Systems Scoops Prestigious Award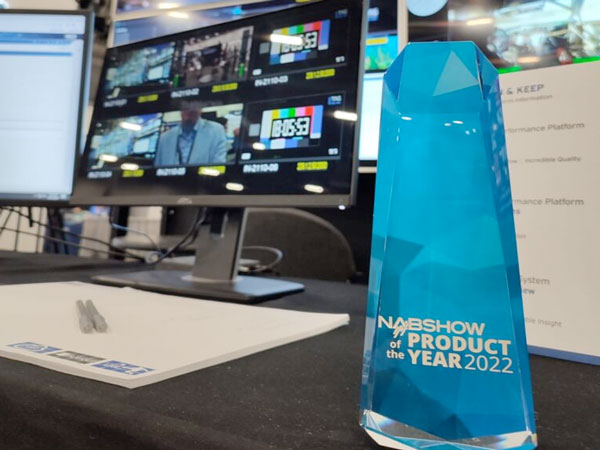 TAG Video Systems has announced that its Media Control System (MCS) is a winner in the Monitoring and Measuring Tools category of the 2022 NAB Show Product of the Year Awards.
This official awards program recognizes the most significant and promising new products and technologies showcased by corporate partners of NAB Show.
TAG's MCS is the newest layer of its Realtime Media Performance (RMP) Platform, a multi-level, open-source solution that monitors, aggregates, manages and utilizes data-driven viewer analytics to provide users with the insight required to build performant linear media systems. Using an open-source paradigm, the MCS serves as a management, control and aggregation engine capable of exposing data collected within the platform to standard third party analytic and visualization applications. Customers can then use data driven insights to improve media operations, quality of service and deliver an exceptional viewer experience that can be validated and measured, all in an open IT environment. For the first time, media companies will be able to measure internet networks and CDN performance across all signals, end-to-end, and know where to shift workloads for optimum performance.
NAB Show Product of the Year Award Winners were selected by a panel of industry experts in 15 categories and announced in a live awards ceremony at NAB Show on April 26. To be eligible for an award, nominated products had to come from companies exhibiting at the 2022 NAB Show and are delivered within the 2022 calendar year.
"The 2022 NAB Show Product of the Year Awards honor innovative breakthroughs that will change the way the media and entertainment industry creates, connects and capitalizes content," said NAB Executive Vice President of Global Connections and Events Chris Brown. "We congratulate TAG Video Systems on this award in recognition of the MCS and its potential to help storytellers meet the challenges of today and tomorrow."
"TAG is thrilled to receive this prestigious honor from NAB and have our MCS recognized as one of the industry's most significant and promising new technologies," said Kevin Joyce, Tag's Zer0 Friction Officer. "The current pace of change in our industry creates a level of complexity the likes we have never seen. We must deliver tools to our clients that will enable their business to grow at a scale and pace required to succeed in today's market. The MCS has the potential to change the way broadcasters plan, evolve and grow. It is matchless in its ability to provide clients what they need to reduce the complexity associated with the changing technical landscape while improving operational performance. The MCS also allows them the freedom to enact favorable business practices by becoming more autonomous and less reliant on outside resources."
tagvs.com
Top Related Stories
Click here for the latest broadcast news stories.